Continuing the discussion from Syncthing versions prior to 0.14.46 are bad.:
Continuing the discussion from Automatically updated to 13:
Hello,
two questions:
1 )
I was wondering, why no updates to the v1.1.4 are coming the last few weeks, so I searched and found the threads above, and this: https://github.com/syncthing/syncthing/releases: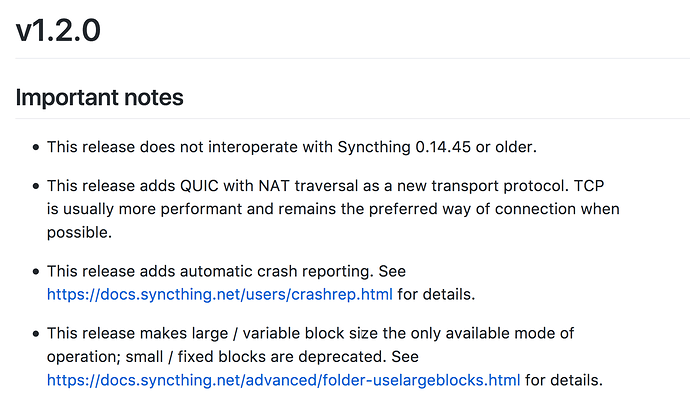 But I'm not sure if those are valid reasons, why no updates are shown (in the webgui) and started.
I have set Automatic upgrades to stable only so that might be the reason why its not updating? because there is no stable version after v1.1.4 ?
2 )
Would it be useful/feasable for the users to have available updates (and clickable links to the download pages) shown anywhere in the settings?
something like:
an update to version x.y.z is available, if you like to manually update, please visit the dowload page here…
Because of the different platforms (or "package" systems like debian?) it might be difficult to give the user a correct download link, I guess. I don't know, but it would be very convenient for the users if they need/want to update/upgrade manually, to have a suitable link to click.