Hello:
Continuing from Excessive RAM Usage
I'm still investigating this, and will be rebuilding shortly - but it does appear I'm still getting high RAM usage.
I'm currently running 0.14.49rc1 with https://github.com/calmh/syncthing/commit/82c5fc008ce82a02b5d5ad1bab124d4648dca724 patched over it. Because of a deadlock issue discussed here - Potential Deadlock Issue on Custom Build - I'll shortly be rebuilding against master with that same patch applied - but I'm still seeing high RAM usage on my system: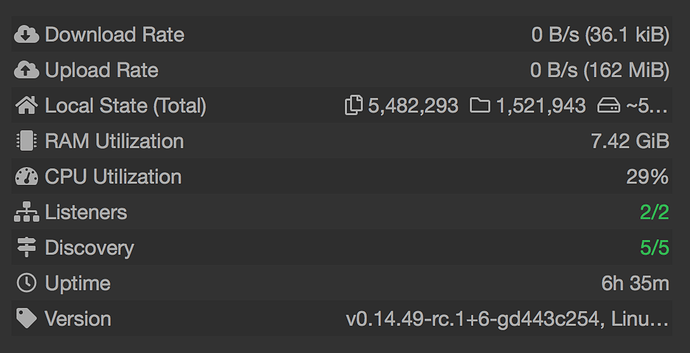 No, obviously, I do have a lot of files - and there is a lot of syncing still going on - but I'd be grateful to know if there are any other measures I can take to reduce my memory footprint.
I've grabbed a couple of heap profiles - are they safe to upload publicly without exposing private data?
Thanks,
Pants.