Hello:
I'm having an issue with Syncthing using up all the available RAM in a Synology NAS, and being killed by the OS.
The NAS has 16GB RAM installed; amongst some smaller folders, I have one particularly large folder set up inside Syncthing - ~7m files at ~46TB. This folder takes a number of days to complete scanning - and I think it's being killed before the scan completes.
The earliest record I can find of Syncthing being killed is 2018-04-02, during the 0.14.46rc2 release phase. There are no records of Syncthing being killed during the months I had it installed before that date, and I've had this large folder set up since my first Syncthing install.
Here are some relevant lines from the kernel log:
2018-05-29T13:46:19+01:00 NAS02 kernel: [462531.460727] [ pid ]   uid  tgid total_vm      rss nr_ptes swapents oom_score_adj name
2018-05-29T13:46:19+01:00 NAS02 kernel: [462532.253377] [27947]   100 27947  5466370  2423492   10678  2951170             0 syncthing

There doesn't appear to be a panic.log being written; I've got logging enabled (scanner and verbose), but I can't see anything pertinent in there.
In case any of this is relevant:
I'm running v0.14.47;
I'm running with GOMAXPROCS=2 to limit the CPU usage;
I've got 8 smaller folders, each with the FS Watcher enabled; this large folder is not yet running the FS Watcher (issue with max_user_watches noted in this thread);
Progress Update Interval (seconds) is -1; (for the large folder):
Copiers = 0;
Hashers = 0;
Scan Progress Interval (seconds) is -1;
Here's a screenshot of the RAM usage since I restarted Syncthing yesterday.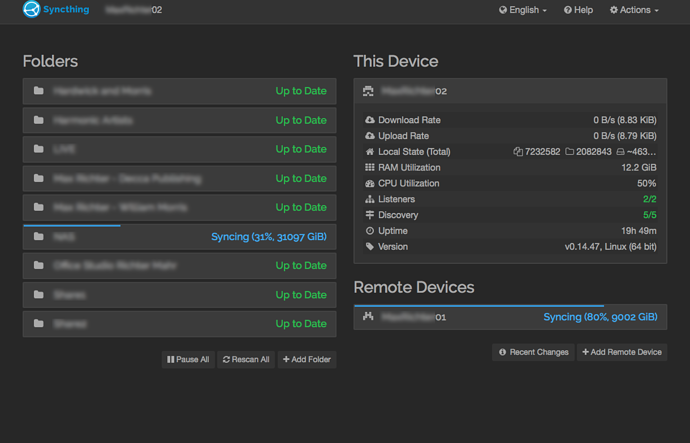 Any ideas where I should look next to track this down?
Thanks,
Pants.