Basically continuing the discussion from Show connection type in Remote Devices · Issue #8244 · syncthing/syncthing · GitHub
Maybe something like this?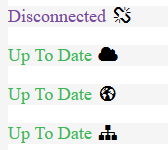 (disconnected → relay → WAN → LAN)
Note that this is still missing a distinction between TCP and QUIC for WAN. We might want to include this information but i'm open to suggestions how to do it without confusing the user.
Using the following icons: