I've checked a couple of threads and tried their recommendations (notably here and here) but could not get things working as I'd hoped for.
Situation: I have 3 machines. Machine X (R/W) at my dad's place and machines A (R/W) and B (R/O) at my place. Up-to a while ago I had machine X talk to machine A and it used NAT traversal to exchange data using a 50kBps limit. Machine B gets turned on only once in a while and then sees machine A on the LAN and quickly syncs up as there is no speed limit on the LAN. (This then serves as some kind of occasional backup)
I've started using ZeroTier-One since a couple of months and it connects all 3 machines seamlessly making it look as if they are on the same LAN which is great for remote administration but it means that Syncthing now thinks it should no longer apply the speed limits between the machines. I've tried to tell it which network it should consider as LAN and which not but so far without result.
My idea was to configure [Sync Protocol Listen Addresses] to tcp://192.168.1.247:22000, quic://192.168.1.247:22000 as to limit the program from even looking at the ZeroTier-One virtual adapters which are in the 10.144.0.0/16 range. This did not stop Syncthing from connecting over the ZeroTier-One channel and transfer data at 'full speed'.
Additionally I've configured machine A to put the public IP of my dad's ISP in the AllowedNetworks option (like this: 141.134.0.0/16) for Device X. This seems to work until it suddenly doesn't anymore and it jumps to the ZeroTier-One adapter and goes full speed.
When browsing to https://Machine_A I get the following device info: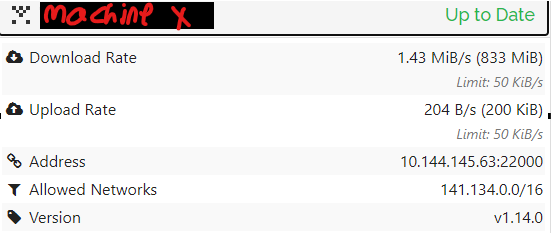 Is there anything else I can try?
From a practical point of view I could configure machine x to limit its speed for both LAN and WAN; that should take care of it right now but if I later on wanted to add a machine Y to do the same thing at my dad's place as I do here (A>B) then I'm stuck again.
Somehow I don't think what I'm trying to do is overly exotic… or is it?
Thanks for the help, Roby