Hi all,
Hope we're all well!
I've been tinkering with my backup solution lately, and now Syncthing has been used for long enough to be proven reliable (in my situation), I thought I would try and create the perfect solution.
I see that @kinsham was in a similar situation a few months ago. I used file versioning initially (in ST) and the system went a little squirrelly. So I tried turning that off and so far it seems to be running very smoothly, Backblaze and ST are playing nicely with each other.
Of course though, this means that a very helpful feature of ST can't be used. For me, using TrueNAS, I'm falling back to Snapshots. If I delete a file or need to restore a previous version, I can go to TrueNAS and restore a cloned version of the snapshot that contains the correct file or version of the file.
As you can imagine, this is a bit of a pain. What's more of a pain, as @kinsham said, was that Backblaze do not offer a "hold one version of the file" option. The Lifecycle options are only as shown below: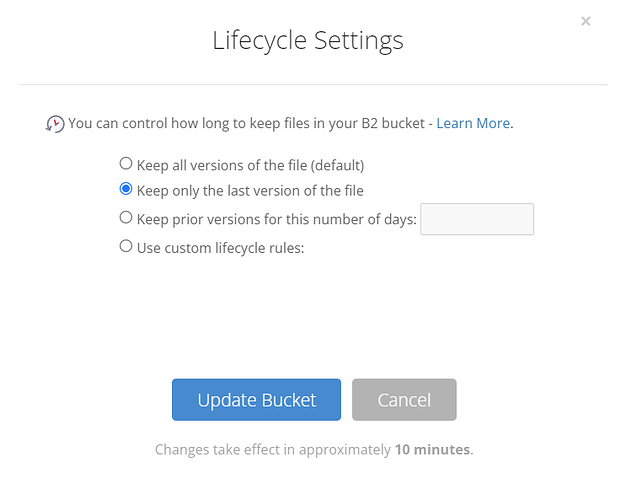 As you can see, I've got it on 'last version' option. I did try to set "Keep prior versions…" to '0', but that wasn't accepted.
Just for anyone else's reference, I have disabled 'Use -fast list' in TrueNAS and the C transactions seem to be reasonably low.
If anyone has any comments, I very much welcome them.