I just provisioned a new Bullseye OS on my RPi 3, installed Syncthing as a service running under a new user admin that I created, and then plugged in an NTFS-formatted 10TB USB drive. The drive already has around 3TB of data, an old copy of the server folder that I wish to resync to the RPi/USB combo.
Side note: the NTFS formatting is a requirement, as the drive serves as part of a disaster recovery plan for a Windows environment.
When I attempt to add a folder from the drive, however, I'm getting permission denied errors:
2023-02-08 09:25:54: Loading ignores: lstat /media/pi/D6986D4D986D2CE5/Files/Now/.stignore: permission denied
2023-02-08 09:25:54: Failed to create folder root directory stat /media/pi/D6986D4D986D2CE5/Files/Now: permission denied
2023-02-08 09:25:54: Error on folder "Files" (swnjz-jf5gr): stat /media/pi/D6986D4D986D2CE5/Files/Now: permission denied

Some relevant info:
The drive is auto-mounted somehow by the OS; /etc/fstab is pretty much empty
I ran sudo chown -R admin:admin /media/pi/D6986D4D986D2CE5 on the drive, which took at least an hour to complete
After the chown command completed, PCManFM still indicates pi as the owner in permissions
Read/write access to the drive is set to Anyone (see screen shot)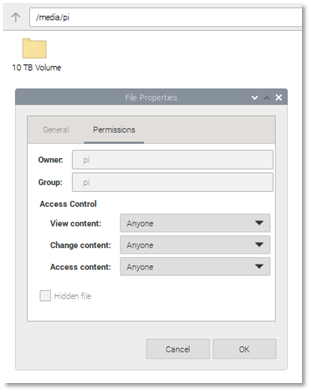 Here's my lsblk output: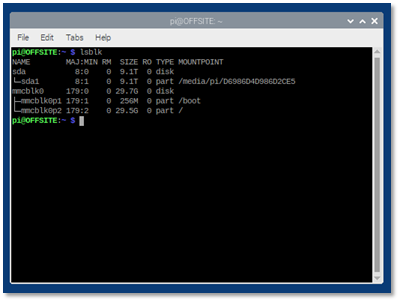 The odd thing is that I had this working at one time, under an older distribution on an RPi 4. In fact, that's how the files got there in the first place. I can't for the life of me figure out what's gone wrong here.
I seem to recall something about having to manually configure the auto-mount under that older OS (it was a few years ago that I put the setup together), and then somewhere along the line having been pleasantly surprised at an apparently new Raspbian in-built feature that automatically mounts external USB drives. If this is the cost, though, I suppose I can do without (assuming the mounting process is somehow related to the error).
I'm at a loss here, friends. Do you have any ideas? How can I get Syncthing to work with my drive?