Hi,
I'm currently seeing this on PC 2 since v1.0.0 on Windows 10, amd64. Syncthing runs as a service under the SYSTEM account.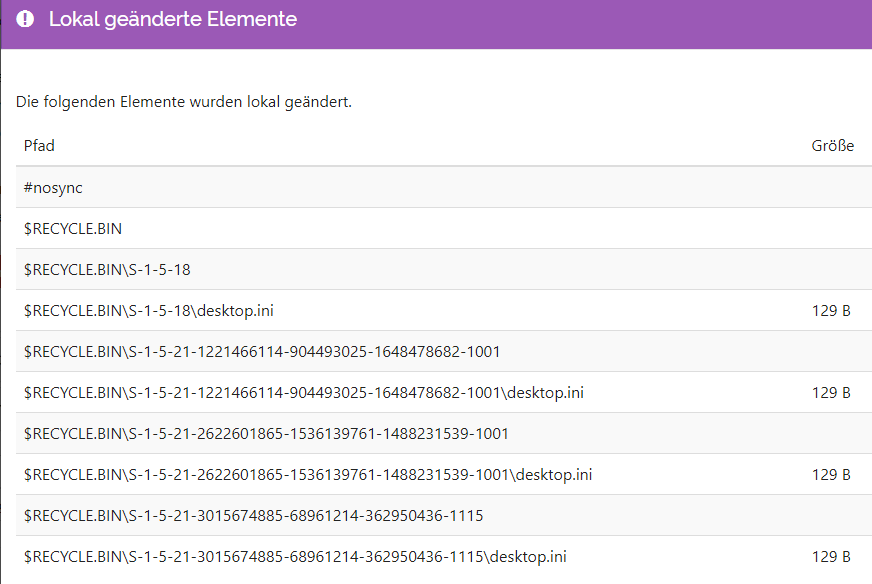 PC 1 says that PC 2 is up2date. PC 1 shares a whole Windows Drive (NTFS) to PC 2 (also a NTFS drive root). PC 1 is sendonly, PC 2 is receiveonly. Both use large blocks (I think that doesn't matter…). Both use local hard drives. They see each other permanently on the same local network with static IP addresses.
"#nosync" and "$RECYCLE.BIN" on the drive root are ignored by .stignore on both the sending and the receiving side.
Hitting the "Revert" button on PC 2 doesn't (visually) do anything and the problem persists. Since I have this problem a little longer, I recall it came when updating from 0.14.54 to 1.0.0. I then waited and later updated to 1.1.1, this didn't change anything.
My Syncthing ignore patterns for the affected folder (in this case whole drive) are those - on both sides:
(?i)/#recycle
(?i)/#nosync
(?i)/$Recycle.bin
(?i)/$RECYCLE.BIN
(?i)/System Volume Information

.stignore is located in the drive root as that is the path where the Syncthing folder points to. (C:)
Any ideas what I can do to solve this?
Thanks for your help.
Kind regards Catfriend1