Background
I use Syncthing on my phone, Arch laptop, and Ubuntu desktop. These devices all share the same exact folders with the same exact options (permissions, rescan interval, etc.). Up until now, syncing files between all my devices has worked properly (albeit a bit too slow and battery-consuming for my taste, especially for folders with many files).
Issue
Recently, two main folders on my Android client have appeared as "Out-of-sync", despite removing these folders on all my devices and then propagating a fresh copy of them again to them. Only my desktop and my laptop are completely in sync, but my phone's versions of the 2 folders in question are out of sync, no matter how much I wait. Moreover, I can no longer share new folders with my phone (only between my desktop and laptop); I wasn't receiving the notifications to share the folders on my phone.
Then, I looked at the Android web GUI and it said this: "Filesystem Watcher Errors — failed to setup inotify handler. Please increase inotify limits. See …". I went to the specified website and I executed the commands therein on my desktop and even my laptop for good measure (I ran the appropriate Arch command for my laptop), and rebooted, to no avail; I was receiving the same error on my Android client and the folders were still out of sync.
Then I wondered, "Wait, why did I have to run Linux commands to increase the inotify limit when the issue was happening on my phone? Is there an equivalent set of commands for Android?".
Other Stuff I've Tried
I looked up this issue pretty much everywhere: the Github issues page, this forum, and the Arch Wiki. The only advice that I've seen for fixing this issue is on the FAQ page, and clearly those commands didn't work at all. I'm guessing they only apply to Linux machines, not to Android phones.
Screenshot of my phone's web GUI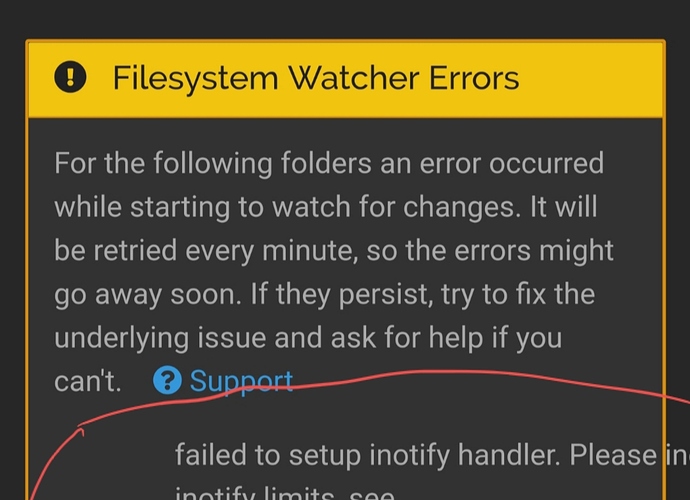 Final Thoughts
Please help. Also, please include error messages in the official app GUI, not just the web GUI. I didn't even know the error message would be in the web GUI until I randomly decided to look at it because I assumed the app GUI would tell you about something as important as that.