Hello and a happy Sunday,
I got this error:
Failed Items
[FNH3H] 2019/07/07 13:32:03.294322 INFO: Scanner (folder P, item "System Volume Information"): scan: open \\?\P:\System Volume Information: Zugriff verweigert
I then set the ignore pattern to match \System Volume Information for this special windows folder, because I had forgotten earlier. Ok, my bad.
But I'm wondering, why I am unable to start a new scan?
Pause & Unpause the folder did not help. No Rescan is available, its greyed out.
It seems to be stuck.
Removing/Recreating the folder helped, but thats a bit inconvenient.
Waiting an unnamed amount of time to complete work is boring and not the way it should be, IMHO.
Screenshots:
Rescan is greyed-out: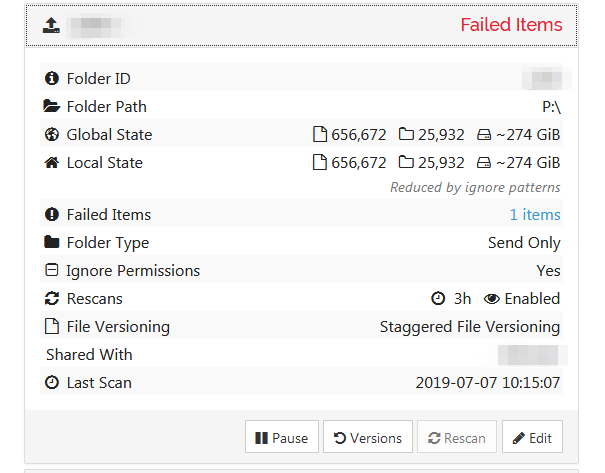 Click in "items"