So I'm new to this and don't understand a lot. But I wanted to sync photos/videos from my current phone back to my old pixel 2 phone (for the free storage upload to google photos which I'm sure many of you are aware of). I'm experiencing a couple problems that may or may not be related?
Fairly often the devices are "disconnected". Sometimes they'll reconnect for a bit but then disconnect again after a while. I haven't been able to figure out what makes this happen. attached is a photo of the web GUI discovery failures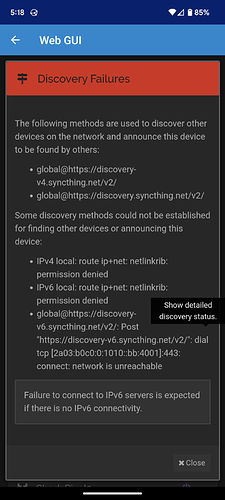 I noticed the ipv4 local discovery will jump back and forth between working and not working I think.
Also I noticed that when the devices are connected its been stuck at 80% synced on my current phone but on the pixel 2 it says its up to date? its been like that for days… dont know if it really hasnt finished or what. Also A "revert local changes" button popped up when this happened.
Again, sorry for my ignorance. let me know what other information you need from me to help solve this issue