Hi,
I think I'm encountering Device stays out of sync until restart after updating from v1.12.0 to v1.12.1 too.
It first appeared after updating two nodes [A - B] that share a folder from v1.11.1 to v1.12.0. Everything was fine back then after the upgrade and fully in sync. After restarting Syncthing v1.12.0 on node B, it went from "up2date" to "out of sync (89%, 263 GiB)" but the data was still the same as on node A compared as files. I've now waited for v1.12.1 in the hope, issue #7122 fixes the problem and updated to it this morning. Still out of sync with the same percentage. I guess the bug is not fully fixed!?
What diagnosis (DB snap, traces, logs, etc.) is required for you to look into this? The normal Syncthing log doesn't show up any errors.
I've already tried to restart Syncthing on node A and B but the "out of sync" status is not resolved.
Thanks for your help.
Kind regards, Catfriend1
Ref.: https://github.com/syncthing/syncthing/issues/7122
node A: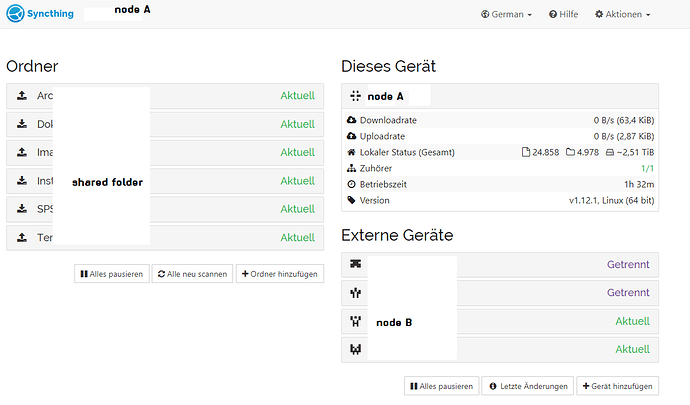 node B: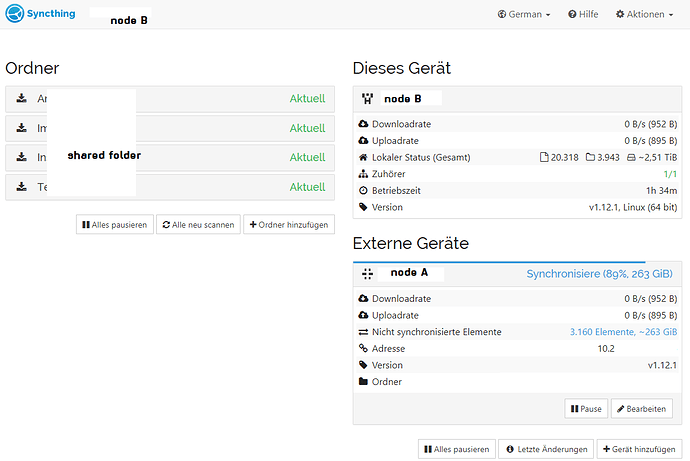 The 3.160 elements dialog shows files that have not been changed for a long time (e.g."archived installers").