Hello,
@AllThoseContributeToThis Thanks for your continued work on this tool - I love it so much!
I'm having a problem which looks the same as in Can't Revert Local Changes
Running Syncthing v1.14.0: I've got a folder on a Synology NAS, which is syncing from another Synology NAS for off-site mirroring. The two NASes got out of sync (from a different sync tool), so I'm using Syncthing to get them back into sync, setting the receiver to Receive Only until such time as they're actually in sync.
It's got this far: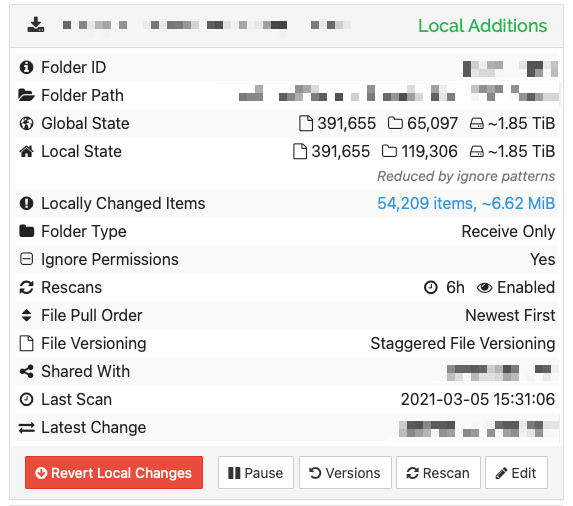 But when I press Revert Local Changes, the folder goes into Scanning - and eventually comes to rest in exactly the same state as this.
Looking in the logs, I see this:
[*****] 2021/03/05 15:12:15.871682 folder_recvonly.go:143: INFO: Revert: directory has been deleted on a remote device but is not empty; the contents are probably ignored on that remote device, but not locally
[*****] 2021/03/05 15:12:15.943961 verboseservice.go:37: VERBOSE: Folder "*****-*****" is now idle
[*****] 2021/03/05 15:12:15.957554 folder_sendrecv.go:1750: DEBUG: receiveonly/*****-*****@0xc019be6700 scheduling scan after pulling for <file path here>
etc...

It looked from that previous thread that this had been thought resolved - but not according to what I see here.
Is there anything I can do to help narrow down this problem?
Many thanks!