Hi
My main computer is a backup device for my family phones and computers and my Wife has a laptop and a work computer where she when she has time work on her book.
So on my backup I ignore Delete on the Book folder and then it is synced to both Work computer and Laptop.
What is interesting is that the Work computer on my backup PC says Syncing 95%, 0B.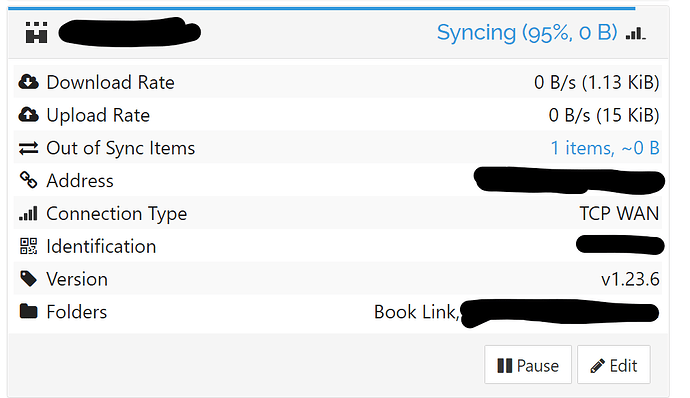 I tried removing the 2 files from the Work computer but for some reason did syncthing not sync but when I moved them back did 1 of the 2 files stop saying it was out of sync but the second is still showing as not in sync when the file on the laptop, my backup and her work pc are 100% identically.
I then tried removing them from my backup device aka moving them away, waited till the Work pc deleted them, and added them back and yet even after this and the work pc is now fully synced does backup device still show as 1 item out of sync as screenshot above shows.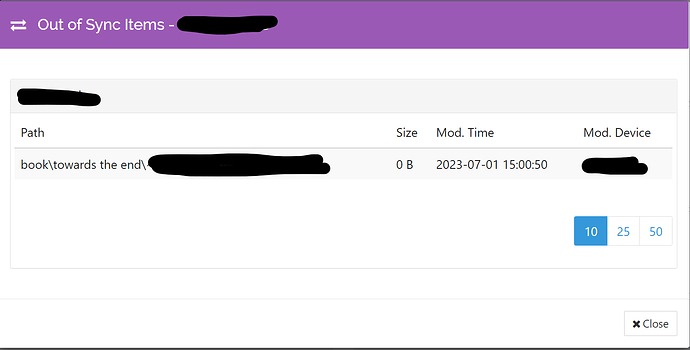 Now off course the Laptop which is atm not on shows 2 items out of sync instead of up to date but I hope it will just see files are there or update and be fine-
Any idea how to fix it and why it is only the actual backup device that claim her work machine was not in sync when it was?