Hi your project is one of the most adequate, very comfortable, I like!
ability to use on Windows XP (not all products have such an opportunity)
ability to remotely configure clients (comfortable web interface)
ability to ignore delete files (Advanced Configuration - ignoreDelete)
ability to ban delete files on the master folder (Folder Type - Master)
ability to save files to the timestamp (Simple File Versioning) Сan proud of his project!
I need your help on the following issues and my proposals for your project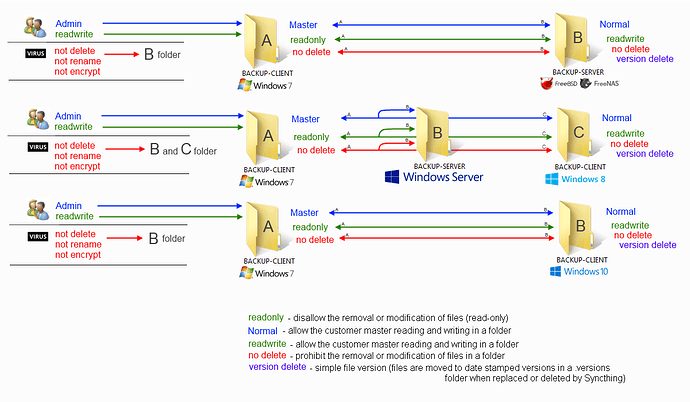 Backup files How to protect files from encryption from viruses extortionists?
need a white list (to protect against renaming files): a) disallow the appearance of extensions: *.cripttt *.blocked *.vault *.da_vinci_code *.better_call_saul *.breaking_bad *.cbf *.RR0D *.ENCODED *.magic_software_syndicate *.enigma *.zepto *.cerber *.xtbl *.cerber *.onion *.WINDOWS10 *.fun *.kkk *.btc *.enc *.7D174 *.cab … b) what to do if the files extension will be such: *.cab *.zip *.doc *.docx …
need block the virus renaming and changing the original file:
if the file was document.docx synchronized, PC infected with a virus and started the extension * .cripttt, in resync it should not be encrypted
document.docx ->- document.docx (copy the original file)
document.docx -x- document.cripttt (not to copy an encrypted file)
Security
need logout session web interface or automatically after a time
need white list of allowed subnets for the web interface (192.168.0.0/255.255.255 or 192.168.0.0/24)
Thanks!