Background
Lets say I have a two device setup, with one folder master and one other device that should just receive updates.
Alice [master]  ->  Bob

I have a couple of directories ignored as they contain stuff I don't want to transfer. Now I mess up my ignores for a moment and these files "escape" from Alice onto Bob. I quickly re-ignore the files on Alice and restart, but some have already been transferred and some were in progress and are half done. On Alice, it now looks like this: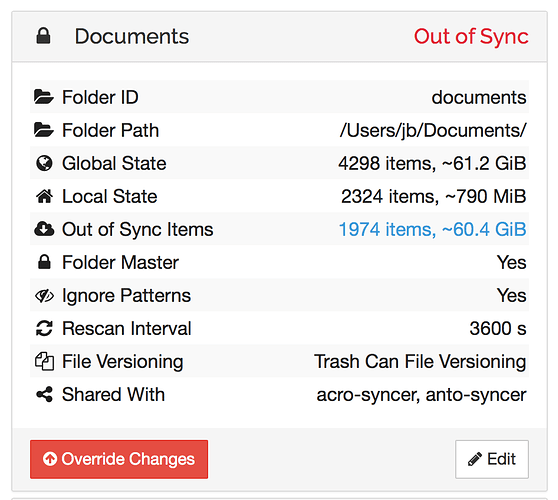 Those 60 gigs of out of sync files are the things that have escaped to Bob. They are out of sync because Bob announces that he has them, and we do not (as far as we know, because they are ignored).
Problem
Clicking "Override Changes" at this point does nothing. Nothing at all. Why not? Because all we do internally with ignored files is to set the "invalid" bit, which says "do not attempt to download this file from me"1.
Ignoring files mean we're agnostic about their existence - they may exist or they may not, and we don't enforce it either way. But this means Alice can never be an "in sync" master again. What I would like to happen is for the files to be deleted on Bob.
Questions
Should ignoring files (that exist at the time of the ignore patterns taking effect) cause them to be deleted on other devices? Generally speaking I'd say "no".

Should the "Override Changes" button on a master device mark existing, ignored files as deleted? For my setup now "yes" would be convenient, but it would mean we do two different things with ignored files depending on the situation.

Or is this is all as it should be, and what I need to do is remove the ignore patterns, move the files away so they are genuinely "deleted", then ignore them and move them back on Alice… That's a bit of a process, just to get rid of files that should no longer be synced to the non-master devices…
1) We also don't send index updates for ignored files, so that would have to change too.