Hi,
I was setting up syncthing on a new computer, when I noticed all the other's gui were at first not loading at all, and after a restart of the services, only showing 'unknown' on all folders (although they were mostly synced already when i last checked on them), as well as not reloading at all if I tried to refresh the page (altough it do load again if i open a new tab and open the ui there). I tried clearing my cookies and cache, as well as restarting services.
What you expected to happen: Web gui showing the status of syncing.
Steps done:
Setup syncthing on 3 computers for a large data set (> 1.5 TB)
Let it sync for one night
Notice all the now non-fonctional uis in the morning (while all the services are still running).
These screenshot were taken after restarting the services (after all the uis stopped loading) on the morning. Uptime isn't updating either. All folder show 0 items, 0 bytes.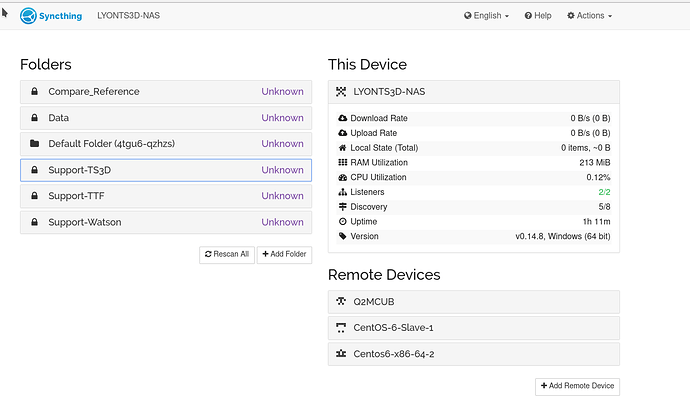 h tt ps://cloud. githubusercontent. com/assets/3176238/19383553/4043346e-9205-11e6-8f5e-18dcee8aed67.png edited for use h tt ps://cloud. githubusercontent. com/assets/3176238/19383554/40447cb6-9205-11e6-9768-fd479290f4bc.png
Version Information
Syncthing Version: v0.14.8 OS Version: Windows server 2008 r2 / Centos 6.8 Browser Version: Chromium 53.0.2785.143 (64-bit)