Hey guys,
I'm having an issue similar to this one:
where the send/receive boxes starts accumulating index .ldb files until syncthing starts crashing because of no available disk space (the largest so far was around 30GB). My setup consists of the following: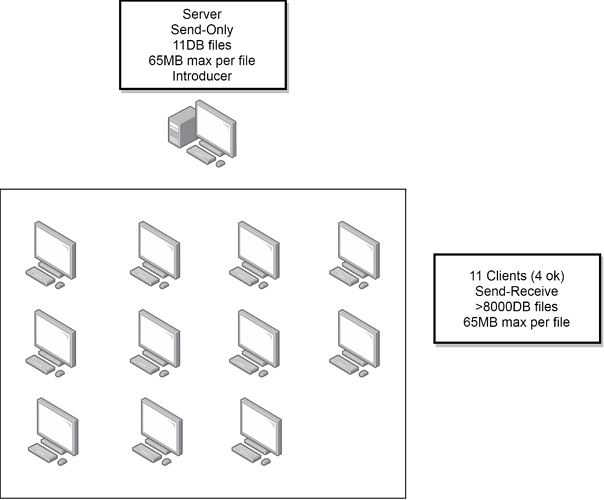 The server have 11 .ldb with a total size of ~500MB. I have 4 working clients on this cluster, where the folder size is about the same with the same sizes. But the others have reached up to 15000 files, extrapolating 30GB on the "index-v0.14.0.db" folder. They are sharing one folder only, where the global state is: Global State 179.846 files 9.451 folders ~694 GiB
Since I have to deploy syncthing on multiple clients, I copy the config file only, to each machine, then start syncthing on them. I left only the server as device on the config file, so it can introduce the other machines, and the shared folder so I don't have to go to each box accepting the folder. I'm using v1.10.0-rc.3, Windows (64 bit) on all machines.
Here is the log file of one of the problematic clients (the one with 30gb >15000 files) syncthing.log (57.9 KB)
I have tried deleting the whole db folder on one of the problematic clients, tried recopying the prefilled config file, but it just started creating infinite files again.