It is my current understanding that permissions on the native Synology package are being configured by configuring the permissions of the system-internal user sc-syncthing and the internal group by the same name.
As such, I have configured the permissions of the shared folder as shown above.
Yet, I am getting the following error.
Some of these folders don't even exist anymore on the source. Yet, syncthing doesn't remove them from the processing list. Is that a known bug? I am quite sure that this has worked on older releases (<1.25). This is kind of an unusual scenario. Basically, a folder plus content got synchronized, and then the owner changed the folder name. The updated folder is now on both systems and neither system still has the original folder. Maybe it is some kind of caching problem?
I am still researching the last error on the list. It is for a different object.
Last, but not least, a properties screenshot of the same share from my windows desktop.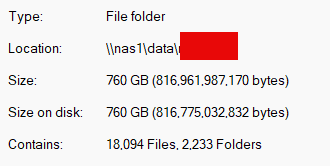 Weird! The numbers don't seem to add up. Same share in syncthing.