I have experienced this problem today on my laptop. This is an older, mid-range device with a dual-core CPU, 8GB of RAM, and a standard SATA SSD. The OS is Windows 10 x64. The laptop is connected to only one remote device, which is a desktop PC on the same LAN, so the connection between the two is quite fast. The laptop has a very old WiFi card though, which doesn't handle high bandwidth very well, hence the 1 MB/s limit set in Syncthing.
The stall happened as I was adding ignore patterns to the folders one by one, and after the fifth folder or so, the GUI basically stopped responding to anything. Actually, it is still stuck at the very moment after 30 minutes or so since the problem manifested itself. The Task Manager shows Syncthing running and using some CPU, but the logfile is not being written to at all. I've been running with the CMD window open too, but there are no new messages there either.
The GUI is stuck in this state: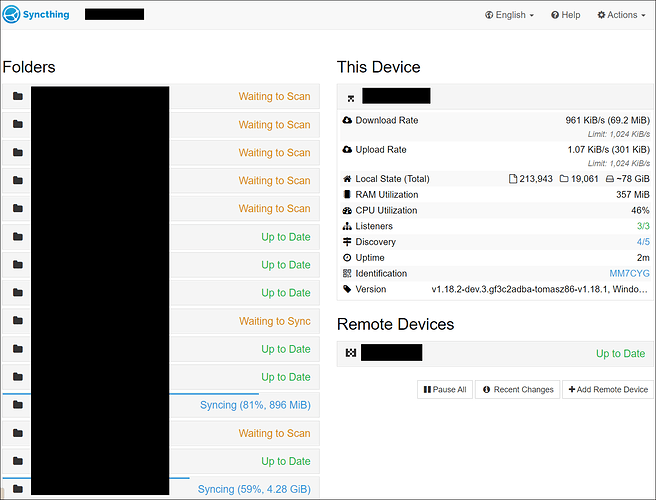 I have taken a goroutine dump:
goroutine.txt (750.2 KB)
Please have a look at it when you've got some free time. I'm now going to kill and restart Syncthing, as I do need to have the synchronisation up and running.
Edit:
I restarted Syncthing and began to add the ignore patterns one more time. Again, after a few folders, everything stalled, so there is a pattern here.