Dear syncthing Community,
I do have a two node configuration with syncthing running. One node acts as the "server" and shares a directory configured with the "Send Only" Option. I need this in my specific case since i just want to replicate data to the oder node. File versioning is also disabled in my case.
My problem is that i do have probably bogus file and directory counts for the "Global States" and "Local States" on both sides. They don´t make sense to me.
I rescanned the folders on both sides and restarted the nodes already.
Here are the screenshots:
Node 1 ("Server" - Send Only)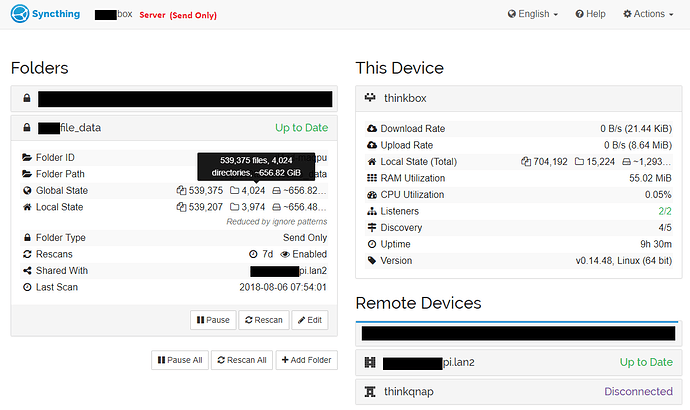 Ignore Patterns from the directory:
Node 2 ("Receiver")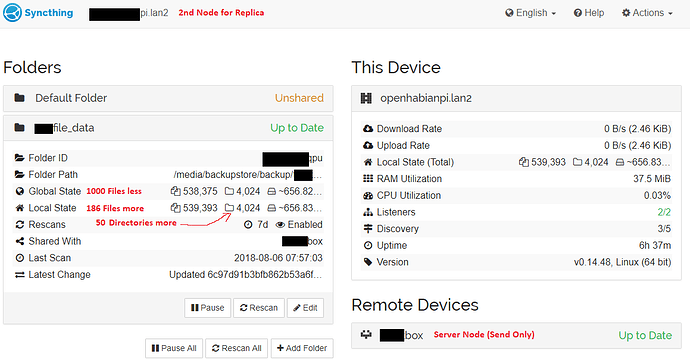 From my point of view those numbers clearly do not add up. Whats absolutely weird to me is that even the global state is differing.
Is there a way to reinitiate the sync without the need to delete all the files on the replica side? Is there something else that can do.
Or do you think the files are all in sync and everything is alright because it says "up to date"?!
But right now i am not confident that things are fine in this case.