Hey all!
I'll start in my traditional way, by thanking you graciously for an excellent product that has enabled a way of managing my life that would not otherwise be possible. I'll also say (in an attempt to gently nudge others to do the same) that I've just donated once again to the project, as I will always do when I ask you for help (although I do not expect this donation to earn me any privilege or advantage in my request).
I've read through this, this, and this, and while they've given me a better understanding of how syncthing works, they haven't helped me with my problem.
Setup
"Home": Ubuntu Studio 19.10 on Asus VivoBook S15 running Syncthing 1.4.0 64-bit
"Hub": Raspbian 9.11 on Raspberry Pi 3 running Syncthing 1.4.0 ARM
Problem (TL;DR)
Installed syncthing on "Home" computer detailed above
Rsync'd files/folders from "Hub" hard drive to new "Home" hard drive using -a option.
Copied syncthing config file from old "Home" setup to new one, changing identity strings as necessary.
All folders sync'd up fine, recognizing the equality of the files on both sides and rectifying metadata in a lightweight way, except my gigantic "Videos" folder. Videos folder is doing a FULL SYNC of identical files from "Hub" to "Home" - around 100Gb and has been running for days.
I can't figure out why it thinks it needs to do a full content sync, and I've verified that the content of the files is identical on both sides: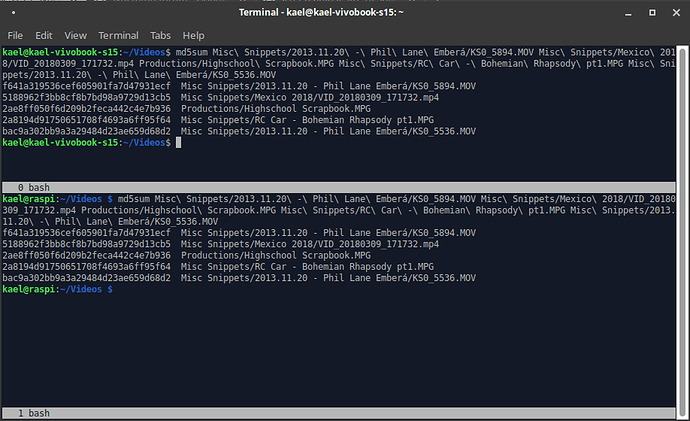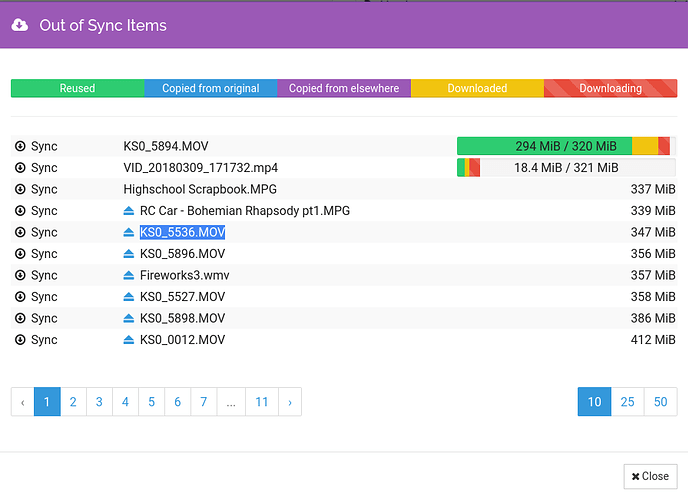 What I've Tried
Completely removing the folder from the "Home" configuration, rsync'ing again, and then re-adding the folder to syncthing. It just tries to copy all the content again.
Extra Screenshots
"Home" folder pane: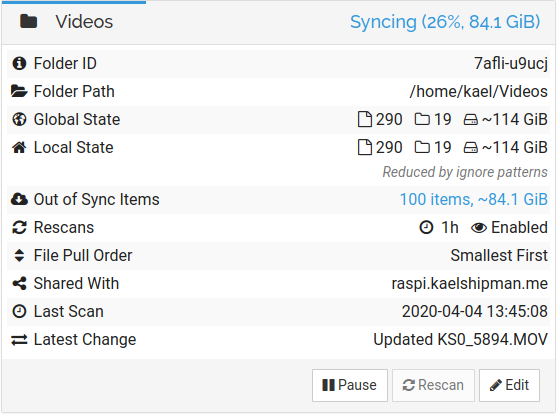 "Hub" folder pane: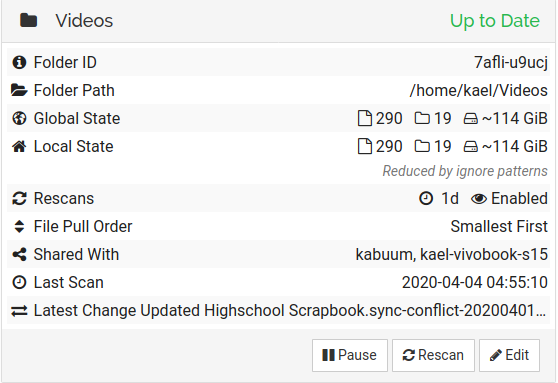 Thanks again for everything, and let me know if you have any ideas as to how to mitigate this or would like more input.