Trying to sync a FREENAS dataset with a Windows 10 workstation for backup purposes. The total amount of files on the FREENAS SMB share is 262,132. However, there are differences between the FREENAS and the Windows 10 workstations that I can't seem to resolve. The following was taken when browsing to the FREENAS share, selecting all of the folders\files, right clicking on the selected folders and selecting properties. It shows the correct number of files that are supposed to be syncing. I am new to SyncThing so I am not reall sure where to go from here. Any help would be greatly appreciated.
Screenshot of SyncThing, white GUI theme, running in a FreeNAS jail that points to the dataset I am trying to sync with the Windows 10 workstation. The number of folders and file count is off.
SyncThing running on the Windows 10 workstation; dark theme.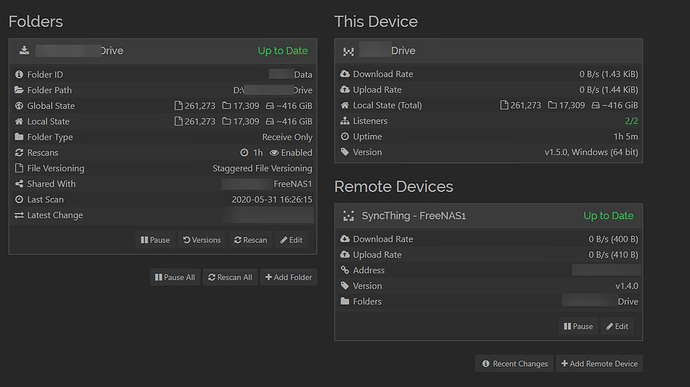 When I use something like FreeFileSync to compare the FREENAS with the Windows 10 PC that I am trying to use SyncThing with it shows the 859 file differences.