Hi,
I'm currently on Syncthing v1.20.3 64-Bit Linux AMD. Devices are A and B. A and B both have all discovery methods disabled as I don't need them.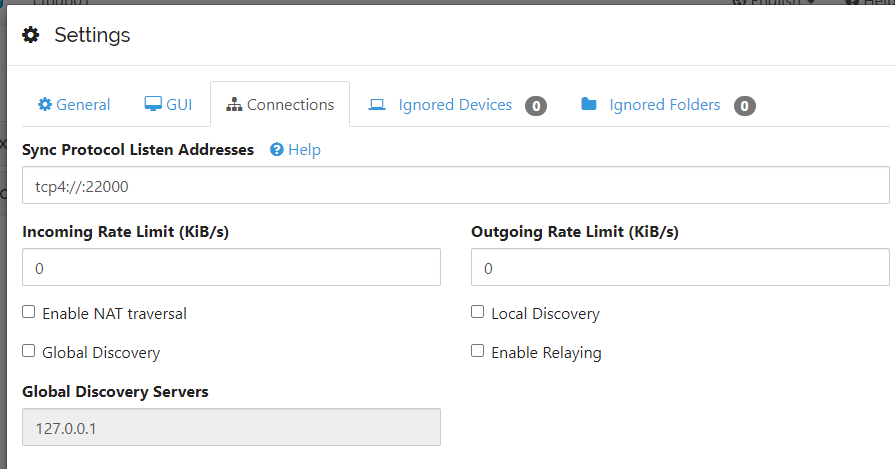 They are known remote device to each other and share a folder.
Remote device view on A:

Remote device view on B:

I set this up so device A should connect to device B. (And B always sit there idle and wait for the connection originating from device A.)
This works well since years between the two. But I've additionally noticed in my firewall logs that device B also attempts connection to device A and I'd like to ask you why this happens.
15:07:19 NAT rule 4 TCP 109.250.xx.xx : 55103 > 192.168.178.254 : 22000 [SYN] len=52 ttl=111 tos=0x02
I've shut down all my Syncthing instances except the two devices to make sure, the traffic logged near device A is really originating from device B. Syncthing must have auto-detected(?) or sent(?) what the WAN IP of device A is and B is attempting to connect via WAN (which is not intended to be so and blocked).
TLDR; device A —> device B (intended way to connect → connection okay) device B —> device A (I don't know why this happens as all discovery methods are turned off - maybe the word "dynamic" is the culprit?)
Can I also remove "dynamic" and let the deviceAddress field empty at B in case I just want device A to initiate the connection?
I've double checked that I don't have DynDNS names or WAN IPs in both of the Syncthing configs.
Remarks: Don't wonder about the 192.168.178.254 address - it's a NAT-to-NAT WAN setup near device A.
Maybe someone can sched some light.
Kind regards, Catfriend1