I've been using Syncthing for many years now, mostly without issues.
My main server Central (NixOS, ZFS) has ~760 GB. I had a Windows 10 machine Tachyon (Synctrazor, NTFS) that never had sync issues. A few days ago my SSD died and I set it up again with Windows 11 (Synctrazor, NTFS) and the same name.
After "connecting" my devices in both Syncthing instances and setting up the folders to sync back everything worked fine and I let it run over night.
The next day though, I could see Central under Remote Devices says it is trying to sync to Tachyon (Syncing (60%, 305 GB)). However, both Download and Upload Rate are now 0 B/s.
Interestingly enough, it seems to have "randomly" stopped right in the middle of syncing things. For example, I have a folder called Company which says "Up to Date" on both devices. Yet, clearly my Windows 11 machine is missing some documents I find on my server. These missing files are not ignored, they seem to be just randomly missing from various folders.
However, no matter what I do, Syncthing just refuses to continue syncing them.
Things I've tried:
Restarted both devices and services multiple times
Checked device IDs and Folder IDs match
Checked both "Advanced Settings" for any glaring errors (but I'm not super familiar with all the settings in detail)
Connected with and without VPN, and / or local LAN
Checked .stignore files
Paused / Unpaused / Rescan various folders
Paused / Unpaused both devices
Enabled some logs and glossed over them (but frankly don't know where to start with the logs)
Long story short, I'm out of ideas at this point. It would be really nice if someone could give me a hint what else to try.
Central: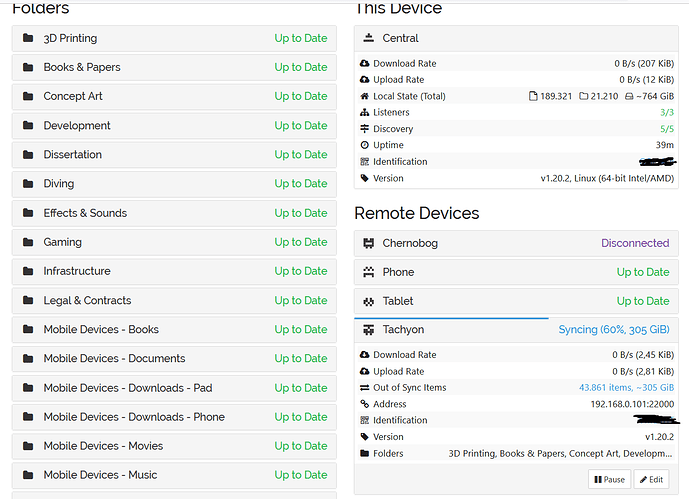 Tachyon: