After reading this: http://docs.syncthing.net/users/firewall.html#tunneling-via-ssh
I immediately removed the portforwarding in my router. I would like to access the webui from my Windows laptop when I am not at home, using an SSH tunnel. The Windows laptop has Putty.
I tried so many different guides, but still cannot get it to work.
Serverside:
Cubox-i (similar to a Raspberry Pi2) running OpenElec with Syncthing installed. At home I can easily reach the webUI via 192.168.x.x:8384.
In my home router, Wan port 2211 is forwarded to the server port 22
I have a dynamic dns forwarding, myname.cjell.dk automatically forwards to the IP address of my home.
Outside of the network on Windows:
Using Putty I can SSH into my server simply by connecting to username@myname.cjell.dk with port 2211
Now I want to set up the SSH tunnel to access the Syncthing webUI: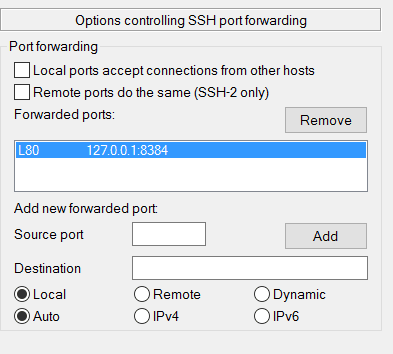 and next I go to sessions, hit the save button and then open the connection to my server as usual: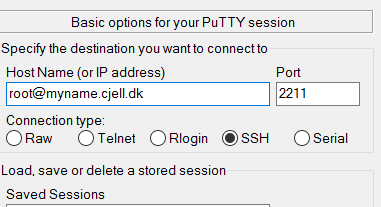 I get to see the terminal window, fill in my password. But when I go to my browser localhost:80 or 127.0.0.1:80 do not respond. So the tunnel is not setup!
What am I doing wrong and/or how can I investigate what is going wrong?