I've got two Dell servers on a LAN syncing at a rate of about 1.00 MiB/s. I've read through the FAQs and read quite a few posts on this subject, but have not found a solution.
The servers are cabled with CAT5 and connected with a Dell N2024 gigabit switch. The servers have plenty of RAM and CPU capacity. Each is set up with 4 x 1.2TB SAS 10K RPM 6GBPS 2.5" in RAID 10.
This is the folder being synced:

The server called Stella is the "source" where all the current files reside. They are being synced to the server called Tank, which started out with an empty folder. The sync rate hovers around 1.00 MiB/s (it'll jump up to say 1.7 MiB/s then fall back to 800 KiB/s). When simply copying the same folder from Stella to Tank, the transfer rate is between 10-20 MB/s.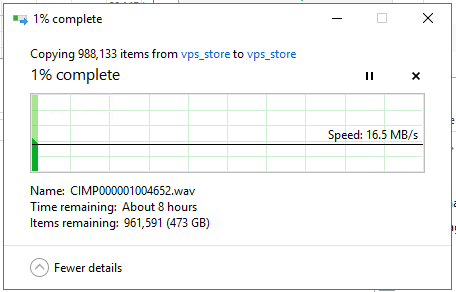 Stella's OS is Windows Server 2012 R2, Tank's is Windows Server 2016.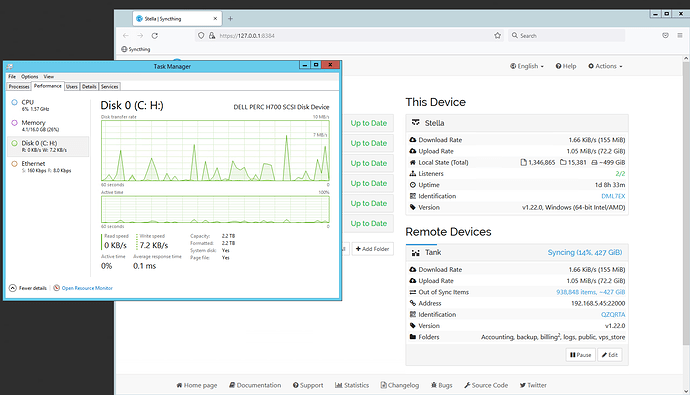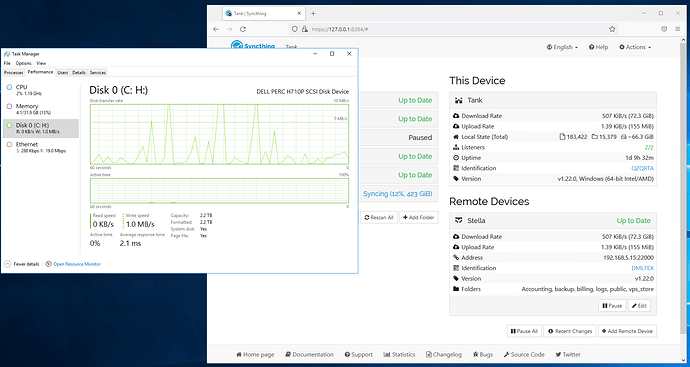 Any ideas what can be done to speed this process up? This is a secure environment, so if disabling security features would speed it up, I'm fine with that.
Thanks in advance.
Scott