Not sure if this belongs in the Android support room or not, as I am using the Android client to sync to my Windows server - and it's the Windows server that has the issue.
Android v0.14.16 Linux ARM Server v0.14.17, Windows (64 bit)
Trying to sync my "Camera/Photos" folder to my server. I sync manually once every few weeks; so, there's massive changes between each sync each time.
NOTE: My Android folder share settings is set to MASTER.
Android client had an "Out of Sync" today, as well as the server - they didn't match though.

On Android client, i had to go into the Web View and click "Override". It finished syncing, and shows everything correct.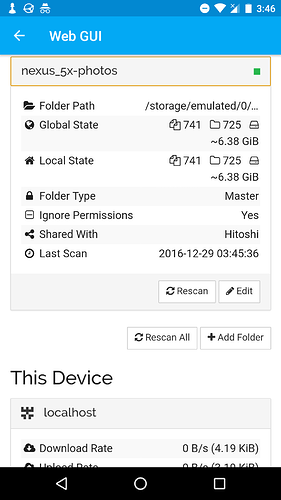 As you can see, all is well and fine in Android client land.
3) ISSUE: Server continues to show "Out of Sync", showing 4 files not copied to the server yet.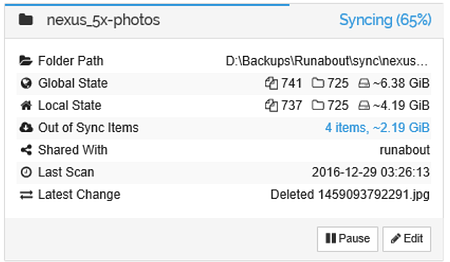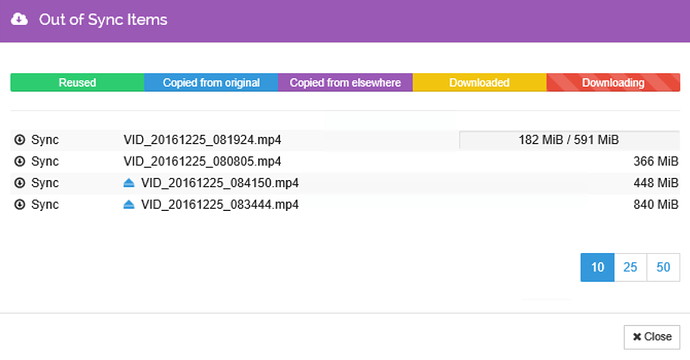 The Server folder settings does NOT have the "Override" option, whereas the android client had it and let me click it. I suspect this is because I have the android client folder settings set to MASTER?
Do I have to remove the MASTER setting on Android to allow me to Override on the server?
I also noticed that it looks like one is partially in progress of being copied. Should I delete that manually and see if it restarts?
If those 4 files were copied to the server, everything (folders, files and size) would be in 100% harmony.
Tried restarting both client and server syncthings multiple times.
Any help is greatly appreciated.