Hello,
I used --reset-deltas command, because i wanted to get rid of device stuck in sync issue. The initial problem is still there and worse, now many folders stopped working because of folder path missing: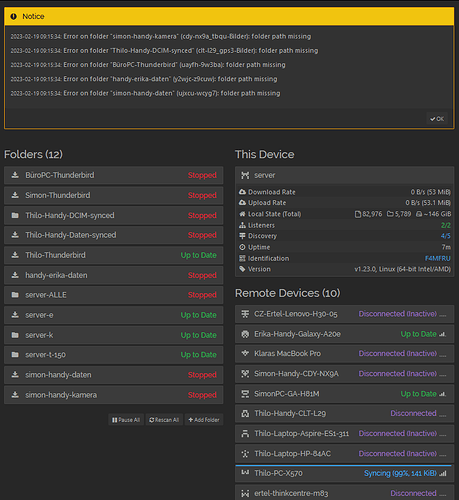 Paradoxically, in the UI it shows folder paths existing: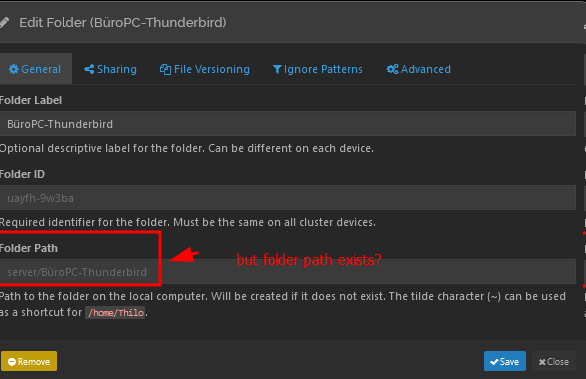 I have the suspicion, only those folders stopped working that were shared with devices that were not online at the time.
What to do?
Should I simply remove folders and re-add them? Should I bring ALL devices online at the same time, then run --reset-deltas again? - Will be hard, because one device is very remote. Maybe I would have to unshare this device.
Additionally, my device stuck in sync problem is still there. The cause of the stuck in sync is because: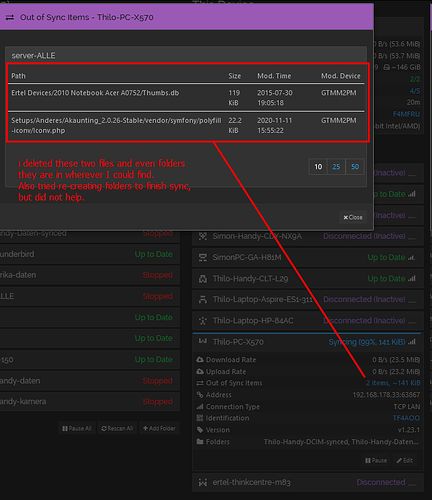 Original device 1 synced with one device 2, but had not yet been synced with other devices yet. This sync was done in older version of Syncthing: 18.x or 19.x
Original device 1 broke physically. (Hardware issue)
Device 2 tries to sync file to other devices without success.
File + folder, which causes stuck in sync was deemed unnecessary and manually deleted from all devices wherever I could find it. It does not exist anywhere, except Syncthing somehow still "believes" it's there.