When we add a new device and do not override its name, the advertised name gets used, as per explained in the dialog help message :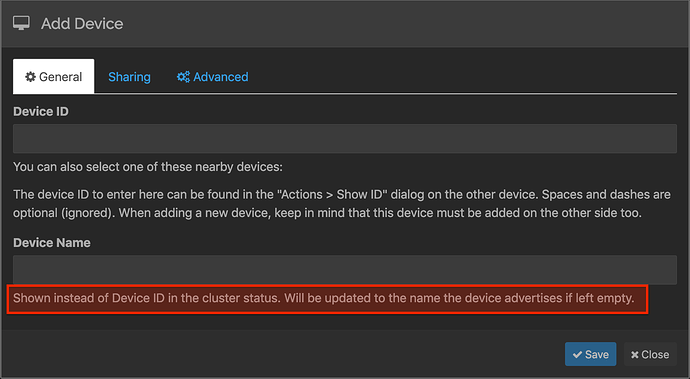 Unfortunately, the advertised name gets copied (found this topic about that), resulting in the same as if the user wrote it himself in the dialog. Therefore, if a remote device later changes its advertised name, the change won't reflect on existing devices, forcing us to manually change the name on every device manually to either :
The new advertised name directly ;
An empty name, so that the new advertised name gets used at the next handshake.
I experienced this on a small cluster (3-4 devices) and it already annoyed me quite a bit (had to wait for some of the devices to get powered on to make the change ; remember which devices I already updated ; etc.), so I can imagine how painful it must be to make changes to device names inside a large cluster.
Couldn't we simply use the advertised name every time if the user chose to not override it ?
That shouldn't be difficult to implement I guess, since we already have the advertised name at handshake. So it could simply be a matter of stopping the advertised name "copy" ; remembering the last advertised name we got for each device ; and use that instead of the one from the "Add/Edit Device" dialog if it's been left empty.