Greetings,
I have spent a bit of time looking in to your FAQ and other documentation. Also browsed the forum a bit and searching, but I feel the need to ask about my specific scenario before jumping in to this "Syncthing".
I am a Windows person, mostly worked in Windows my entire life as sysadmin and service manager and not very versed in CLI and such things. Changing my home office servers, replacing and moving around, setting up a TrueNAS Scale, to allow for a bit of greater versatility and also to learn more about this environment.
It seems to me that Syncthing, with UI, might be a better option for me than rsync, that gives me all kinds of headache and I do not think I will be able to achieve below scenario with it.
Allow me to explain what I have and how it is set up:
A windows server and a NAS on a local layer2 network that is not open to anything else.
The Windows server has a shared SMB folder. All data is stored there. Today about 11TB. The Master, if you will. No user management. No ACL. No NFS. Everyone uses the same creds and everyone has RWX rights. Done on purpose. Will not change. My NAS, an Asustor, also has a shared SMB folder, that can be accessed if needed, that is the Backup. Less access, of course.
SyncBack synchronises - mirrors - two mapped SMB shares where the Server is the Master and the NAS is the Backup. Every night SyncBack 10, that is installed on the Server, scans the file list and copies changed files to my NAS Backup, and delete files that are no longer present on the Master. Was a total no brainer to setup and I have used it for over a decade.
This is a screenshot from my SyncBack settings: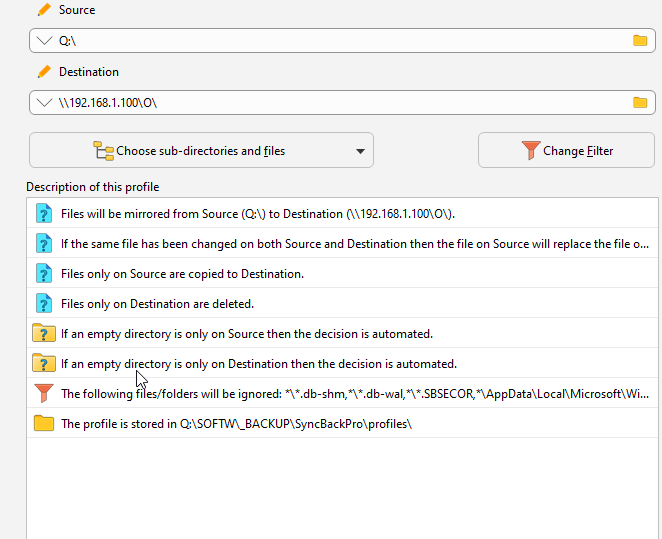 So the question is obviously if this is simple enough to be handled by Syncthing on TrueNAS Scale. I do not use, or need, any SSH, nor any compression, nor any encryption.