syncthing.zip (1.8 MB)
Since RC2 (don't recall it on rc1), some folders on the 2nd PC are showing disconnected…
send only site (example)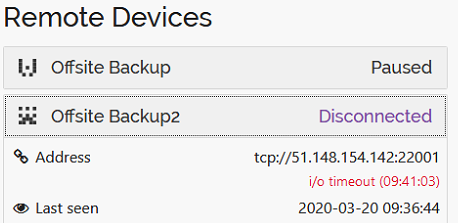 receiving side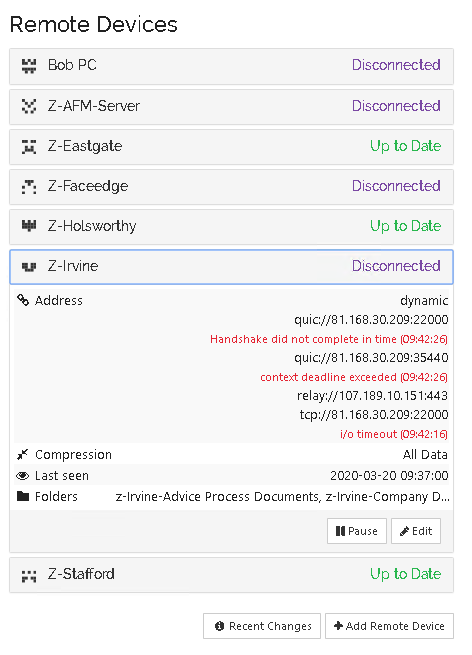 as I have a lot of folders, I split St in to 2 separate installations / 2 PCs. The original St is running fine no errors, however the 2nd installation started falling over after rc2 was installed.
All sending nodes are set to static IP, not dynamic, I use 22000 for the original St, 22001 for the 2nd one.
on one of the failed syncs the logs shows
Connection to KUF3DN7 at 192.168.16.205:22000-81.140.89.112:45725/tcp-server/TLS1.3-TLS_AES_128_GCM_SHA256 closed: protocol error: index update:
which I have not seen before.
NAT is enabled, I turned off local discovery and restarted. The #1 St is only syncing at 7Mbps, I have an 80 connection so I don't believe it's bandwidth related.
I might blow away the 2nd St and merge everything back into the single St as it was mentioned before it can get messy and maybe be the reason for the errors, maybe the relays are trying to connect to St #1? But will hold off until you guys have had a look.
Thanks