I have a VPS and I entered the hostname in syncthing: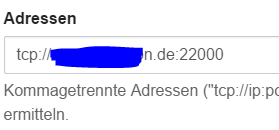 But other devices with no static IP are connecting much faster


A telnet on this port and this adress is working fine.
In Version 11 I started ST and after some seconds it was connected. Since v12 it tooks very long to connect to this server. Entering the IP does not solve the problem.
edit: the server is fully connected: