I've just reinstalled Windows on an upgraded computer, I've shared multiple synced folders with this device and it worked fine… except for one.
On my home server, I share this folder to the new computer.
On the new computer I accept it and set the location to an existing directory with existing files, specifying that I want to ignore some patterns.
I edit the ignore patterns (/.*) and set apply.
Once configured, SyncTrayzor displays an error message saying that something wrong happened (the .stfolder folder wasn't created, I don't know why).
I stop Syncthing, manually create this missing folder and restart Syncthing.
Now it works as expected.
After a little time I realize I forgot to add some directory to the ignore list. I pause the syncing, edit the ignore patterns and add the directory (/app). Then I resume the synchronizing.
In the end, I have an "Out of Sync" error, showing "2744 items, ~140 MiB".
And when I try to see the items, the popup displays none (but shows 275 pages).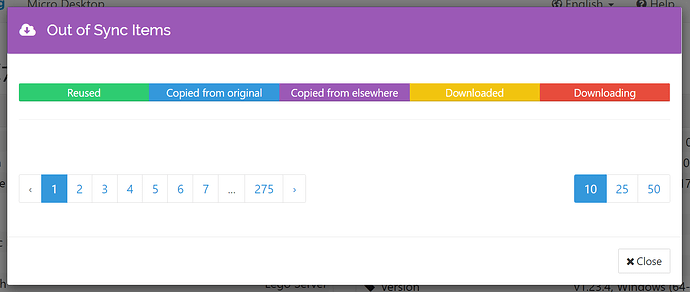 The console shows no error. I've also tried to remove the folder from SyncTrayzor and re-add it in the same directory, same issue. I've shared this folder to multiple other devices without any issues, this is the first time I got this. I'm pretty sure everything's synced correctly, I just want to get rid of those unknown missing files. Thanks in advance for the help !