I'm really appreciating Syncthing, and I wanted to give something back.
I have a couple of cheap $5/month VPS's rented, and I get 2TB/month of bandwidth, whether I use it or not. I run low-traffic websites for personal use on these VPS's, and I hardly use any of that 2TB/month up, every month.
The billing cycle with my hosting provider happens on the 1st of every month, and it occurred to me that I only have a few days left in the month to use or lose all those GB of bandwidth. My hosting provider has a nice dashboard showing how many GB of bandwidth remain: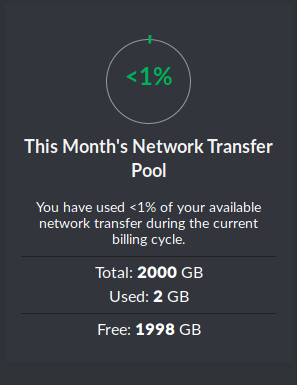 I wanted to have some fun running that "Network Transfer" dial up to close to 100%. I'll just Ctrl+C those Open Relays, once they've "slurped up" all the bandwidth I'm willing to allow. I figure it'll take a day or two of running both with a bandwidth limit of 15MB/sec, meaning, I'll start strelaysrv with "-global-rate=15728640".
After a couple of hours, the relays are starting to slowly fill with traffic, which I'm checking periodically at https://relays.syncthing.net/
I'll post again, as things progress.