I'm taking notes in the program Obsidian. It saves the pages as basic markdown files automatically as you type.
Every time I make a new page/folder or even type in an existing page, once it syncs to my other device after a minute or so, a sync-conflict file is created.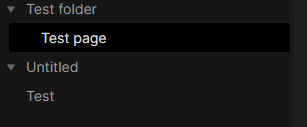 I tried to make a simple folder titled "Test folder" and a page titled "Test page" to demonstrate how this manifests in Obsidian, which shows the folder structure of markdown files in the sidebar. Here's the same files in File Explorer.

Unfortunately, this isn't just a problem in Obsidian. I've tried taking notes in even simpler programs, and if I save my file at the wrong time, it'll create a duplicate. It's only a problem here because it messed with the file structure of my Obsidian Vault.
If I were to guess at what the problem is, I think these conflicts arise because Syncthing can't keep up syncing to my other device as I type in real time. I'm not sure about the finer details of what exactly's going on here, but I'm sure someone here does.
I'm using Synctrayzor and I notice there's an insane amount of Advanced Options I could change, but I'm not sure if any of them would help my situation.