I have a setup of a Linux-Server, a Mac at Work, a Mac at Home and a Macbook i use on the go and some VMs.
The Macbook was some weeks not in use, maybe a month and i startet it. It syncs with the Mac at home and the Server.
After that, i have many Sync-Conflicts, in every Folder and most git repositorys where broken. (now i know that i shouldn't sync them ;))
The strange thing is that there are not 2 Versions of the files but a normal file or a conflict file.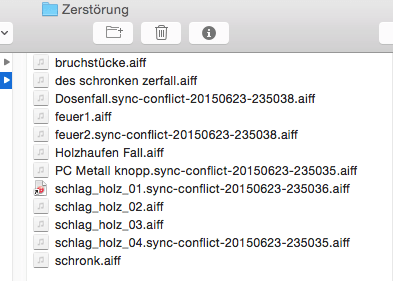 How can this happen? (Maybe i can help to resolve that?)
Could that be resolved?
I have a zipped Version of that Folder from the Macbook. So the Data is not lost, but it should not happen again. I should really have a Backup!