hello there, thank you that you exist. a very helpful and patient user is helping me to sync my synology DS with my extern usb drive on a RASPI. i only send from DS and only receive at RASPI side. both sides ignore patterns are the same, filesystem is ext4 and unixoid.
i get the "Local Additions" when i click Locally Changed Items, i see a list of folders, no files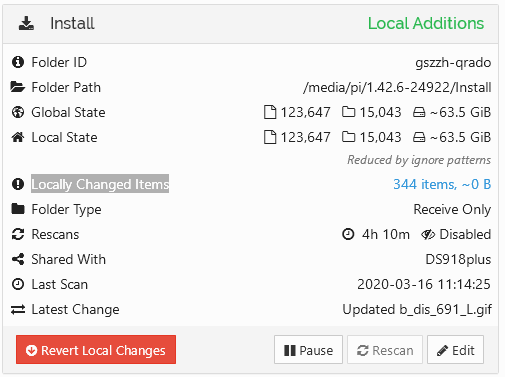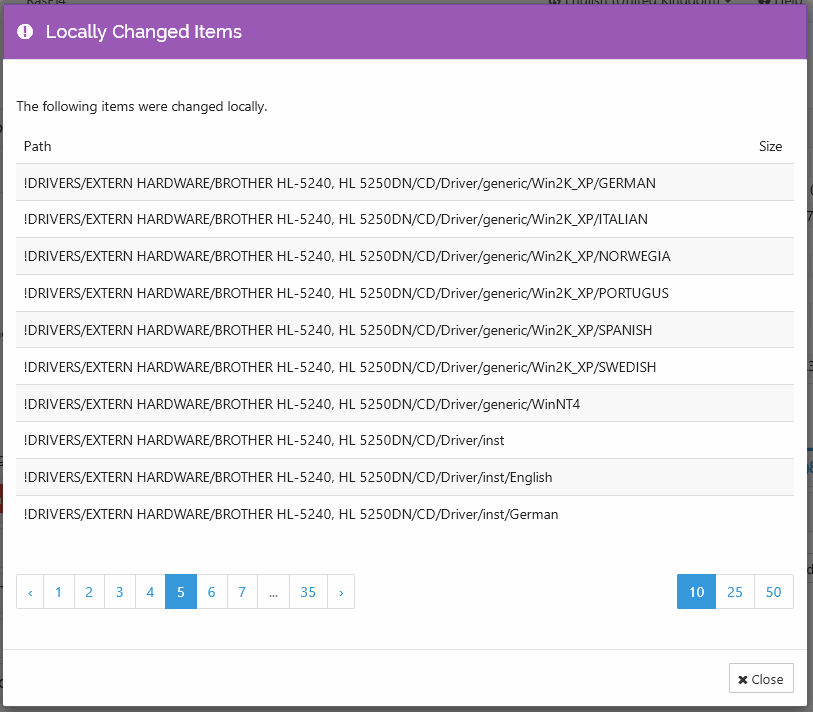 we tried to change the rights, we renamed the folder so the sync took place again but the "local additions" do appear again.
i also clicked on the red button (revert local cahnges) the log says "Revert: directory is not empty; files within are probably ignored on connected devices only"
the ignore pattern is:
#include .stglobalignore /#recycle (?i)#recycle

// .stglobalignore

// Incomplete Downloads // At least for now, these prevent Syncthing from transferring data that's // going to be thrown out anyway once the download is finished and the // file is renamed. Things may change when Syncthing gets smarter. // // Firefox downloads and other things *.part // Chrom(ium|e) downloads *.crdownload

// Temporary / Backup Files ~ ..swp

// OS-generated files (OS X) .DS_Store .Spotlight-V100 .Trashes ._*

// OS-generated files (Windows) desktop.ini ehthumbs.db Thumbs.db

// BTSync files .sync *.bts *.!Sync .SyncID .SyncIgnore .SyncArchive *.SyncPart *.SyncTemp *.SyncOld

// Synology files @eaDir
what can we do to find our error in thinking?
can we get a log of what files are ignored or what can we do?