Okay so here's the deal.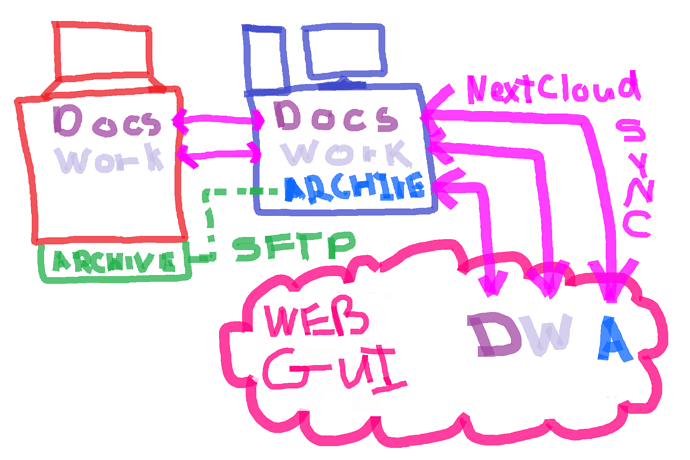 This picture is about a week old so it's not exactly what I'm doing right now but it's a visual that might help.
The laptop is windows, the desktop is Ubuntu.
The desktop is running a NextCloud Server, and I have ~/home/work, ~/home/documents, and a Raid 1 array partition /mnt/md0/Archive mounted to it via the NextCloud external folders application.
I have my the Work and Documents folder on my Windows laptop synced by the NextCloud client to the linux desktop /home/work /home/documents folders, and I am planning on mounting the Archive partition to my laptop by WebDav as an external drive, so that with internet I can access any of my back up files etc at any time on my laptop.
I want to use NextCloud so that I can share links, send folders, collaboratively edit in the cloud etc. I thought this system I was using would work fine, but I am running into problem in the syncing of the Documents and Work folders, and according to people on the nextcloud forum, this is because I should not be directly manipulating the folders in the file manager on the desktop.
SO INSTEAD, I'm thinking about doing this:
Mount the /home/documents, /home/work, and /mnt/md0/Archive to NextCloud using external folders app so that stuff is avaiable on the web, and then sync the /hom/work to the Work folders on windows using SyncThing.
Does that seem like a good solution?