Hi there! I'm experimenting with Syncthing for 2 weeks and I find this tool incredible! In our office, we are 3 architects and we are using Syncthing to share the project between 4 desktops (one acts like a "server"), 3 laptops, everything works as expected! Now we would like to expand the sync to our smartphone. This is our typical folder structure in our workflow: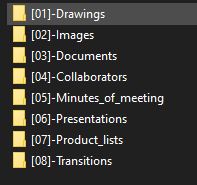 From here, I'd like to see from my smartphone only [01] [02] [03] [06]. Inside [01] the structure is like this: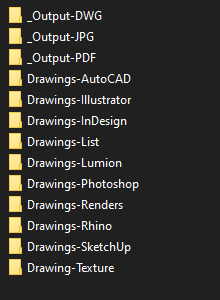 From here, I'm only interested in the folders with the "_Output" suffix. I tried a ignore patterns like this:
//schema da utilizzare per prevenire lo scaricamento dei file pesanti su Android
//cartella principale
**transition
**product_lists
**Minutes_of_meeting
**Collaborators
//cartella drawings
** dwg
**autocad
**illustrator
**indesign
**list
**lumion
**photoshop
**renders
**rhino
**sketchup
**texture

I copy and paste this syntax in the Android app, BEFORE sharing the folder with the smartphone, but seems like android completely ignores it. The same syntax, if used from PC to PC works perfectly… Am I missing something?