Hi everybody,
I am currently looking into using syncthing to sync two office NAS's home folders as the built in service (cloud station) can't do that.
So when I start the folder initial scan, first off all looks normal but the memory usage slowly climbs up to about ~5-700MB, which is fine. I have 2GB. But a little while later memory usage suddenly jumps to over 2GB which makes the whole NAS unresponsive (swapping, I presume). So I have to kill the process to free up the ram and then start over again. I already changed the # of hashers to 1. Helped a lot but still no success on the first folder scan.
Anybody know why? I'm running DSM 5.2-5967 Update 2 with the SynoCommunity package. Just installed that, then clicked auto-update to get to v0.14.15. That part worked like a treat…
The folder size is 1.12TB, btw. But as far as I read, the folder size is independent of memory usage? It seems to be for the most time.
Thanks!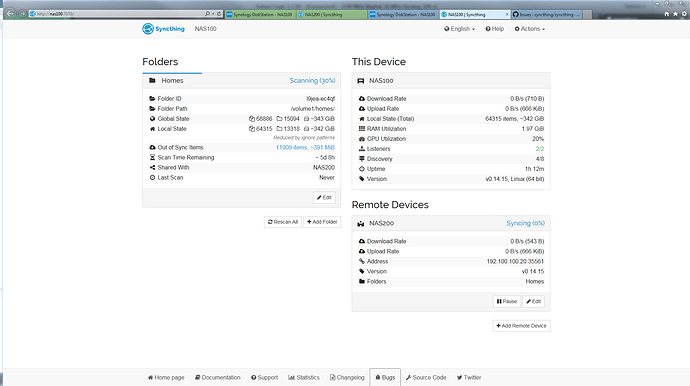 (I've also got a htop screen, can't upload though).