Hi the community !
First of all, I love Syncthing and would like to thank the team behind it. Now, let's talk about the issue I'm concerned about.
I have understood that Syncthing automatically generates HTTPS certificates for the GUI, in the https-cert.pem and https-key.pem files of the Syncthing configuration.
As it is generated, the certificate is considered as a self-signed certificate. Here are the certificate I have for my Syncthing instance: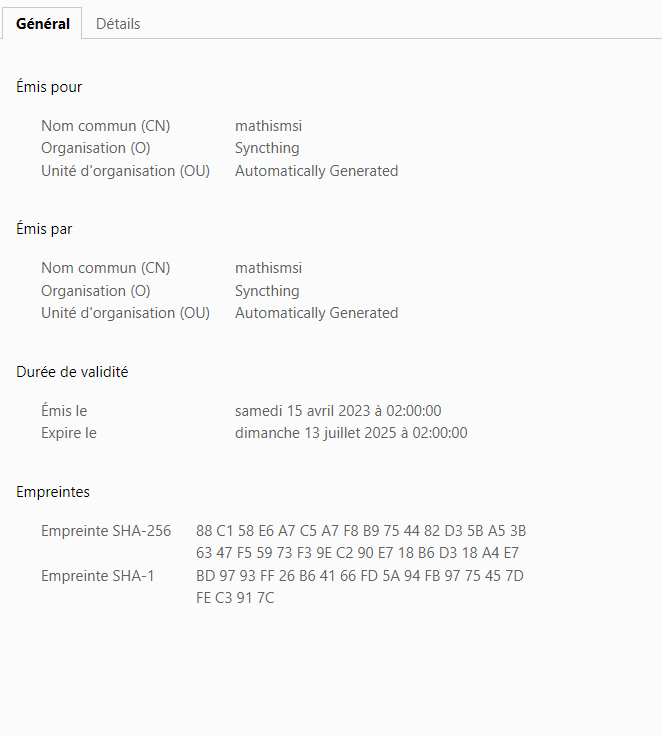 Therefore, we can see that the Organization (O) is Syncthing and the Common Name (CN) mathismsi, which is the name of my computer.
However, when browsing to https://localhost:8384, the Syncthing GUI address, the browser doesn't recognize the certificate as it isn't issued for the correct CN.
Moreover, when making API calls to this GUI address, which is the base URL for Syncthing API, we get the error net::ERR_CERT_COMMON_NAME_INVALID.
To conclude, how could I change the HTTPS certificate to have a valid CN for the localhost domain name ? Is it possible to include it inside the Syncthing HTTPS generation ? And how could I also modify the GUI HTTPS certificate in the Syncthing for Android app ?
Thanks in advance for your help !
Links