Hello
I am starting with syncthing and managed to synchronize between my Linux server and a Windows client.
After these tests, I exposed port tcp/22000 of the server on Internet with the expectation that my client will now use this feature to directly connect to the server. However I still see in the client's log
[FQ7Z7] 23:33:20 INFO: Established secure connection to QW7UQ5N at 10.100.10.108:6637-89.46.70.108:22067 (relay-client) (TLS_ECDHE_ECDSA_WITH_CHACHA20_POLY1305)
[FQ7Z7] 23:33:20 INFO: Device QW7UQ5N client is "syncthing v0.14.36" named "syncthing"
[FQ7Z7] 23:33:24 INFO: Joined relay relay://109.230.199.119:22067

if I read it correctly, my devices (the server and the client) still communicate via a relay.
How can I reset this information? It may be that upon the initial setup of the relationship, the client was set to contact the server via a relay (wildly guessing).
The port of the server is correctly exposed on Internet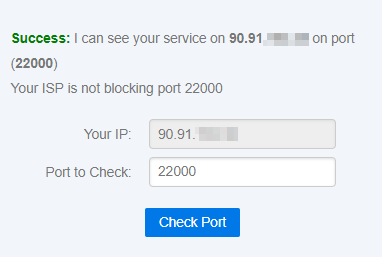 I ALSO rebooted both the server and the client after the exposition of the port expecting the devices to agree on a direct connection instead of via a relay.
The documentation suggests that
Relaying is enabled by default but will only be used if two devices are unable to communicate directly with each other. When connected via a relay, Syncthing will periodically retry a direct connection and, if one is established, stop communicating via the relay.
but this does not seem to actually happen?