I have looked for the perfect backup system for a while, and now I have found syncthing, looks like a almost perfect solution to me. But I am new to this and have some questions.
First, look at the picture, this is what I have in mind. In short: Everything backs up to UnRAID NAS, then everything from the NAS backs up to both my workstation and a remote-client I set at work or at some family's house. Also, all sync is one-way besides the phone, because I also want to be able to remote-change files on that.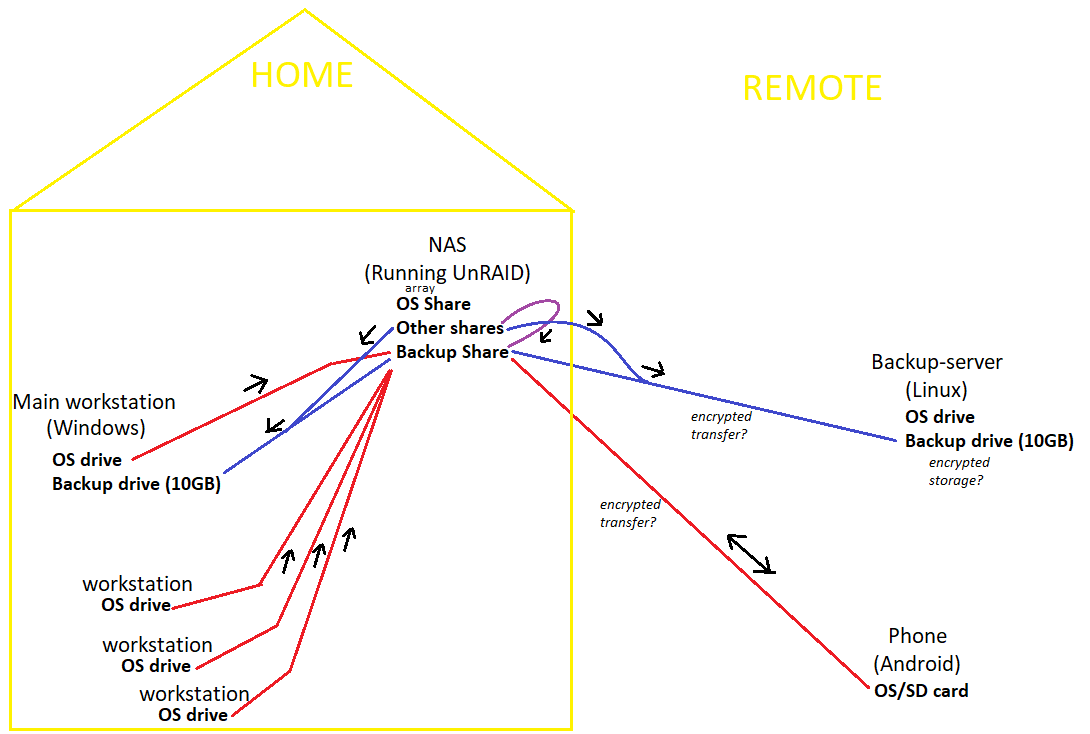 So The questions:
Are the transfer encrypted by default? As I understand: The relays are able to see filenames and other metadata but no content?
If I want the data encrypted on the remote machine, do I set password for sharing just on the unraid side when I share, or also when receiving remote server?
For the data that is stored on my NAS (most of my data), I kind of want local file versioning, but I don't need duplicate of all files on the same array, is this possible to do?
When It comes to file versioning, If I want that for my workstations and phone, how should I set this up, on all places, or just on workstations? or just on unraid? or just on remote-servers? I guess it can be messy with multiple steps of file versioning? Also, is it true that data encryption on drives (untrusted device) don't play good with file versioning?
Is there a smart way to access the remote client GUI whitout port openings?
Anything other I should think about?