As stated in the title, I have a problem with one folder, which shows as "Up to Date" despite its local state not matching the global state. I have only noticed it as some of the files, which I needed, had not been synced.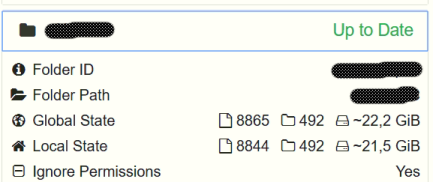 Rescanning the folder or restarting Syncthing does not help. The folder itself is shared between 4 devices total, but only 2 of them have been active in the last few weeks. The local state is reported correctly on the other device.
The configuration in question is Syncthing x64 1.3.3 under Windows 10 Enterprise 2016 LTSB. The other computer, where the state is correct, runs the same version of Syncthing under Windows 10 Enterprise 2019 LTSC.
I have found a similar thread (https://forum.syncthing.net/t/out-of-sync-items-and-mismatched-file-folder-counts), where there were also mismatches in the global and local states, but I am not sure whether these problems are related. In that thread, enabling model , db and protocol debug facilities on both sides was recommended, so I have done just that on my two devices.
I am not really good at debugging this kind of stuff though. What can I do more to find the cause of the issue?
I know that I can "fix" it by resetting the database, but I have not done that yet. I possibly had a similar problem with a completely different folder and devices a few weeks ago, but I just reset the database then, and thus have no logs. This time, if possible, I would like to know the culprit.