So, not necroing. Folder priority Folder Priorities - #3 by AudriusButkevicius
Folder priorities would be nice. If I have folders with more critical 1G of unsynced beans, I want them to be synced with priority, throttling the 1T background chugger folder. Actual network speed is 5-6GB/hr
Since the 1T folder has been (already) chugging along, it tends to take priority. It's annoying and creates sync conflicts, if the smaller / more frequently changed folders get bogged down. I tend to manually go in and pause the syncs (what risks forgetting to unpause and lose progress / wastes potential bw usage).
I'd propose¹ implementation in ± two steps:
Allow throttling folders.
Allow throttling folders percentage-wise, of available bw (howto determine it? one thing is of device-wide bw limit, but what about local devices, and it'd be better to look at the total bw, and attempt to restrict there; with units it'd be for each byte x syncs, you should be prioritized to sync/request kx bytes; what about syncs being stuck, and them not using their allocated bw?)
Allow setting units (where from percentages are found, or not) to folders.
¹ I might be motivated to implement it at some point in time, but not taking any commitment or assignment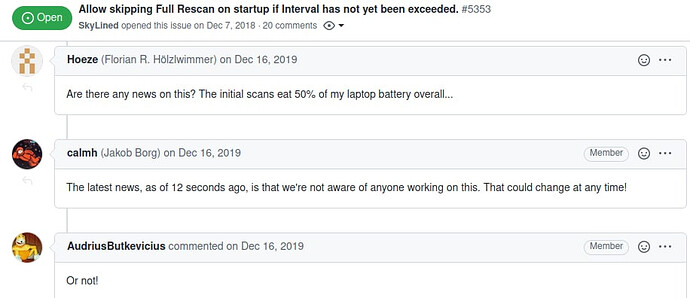 ok isn't this another one of the "world could be better, but hey, see it, it isn't, and it's not going to, ain't it?"