Hi,
I've been using (and loving) syncthing for about 4 months now, but I've run into an issue that I can't resolve. I have about 25 folders syncing and two of them are stuck in an endless Scanning / Out of Sync loop. The folder status shows Out of Sync and flashes Scanning for about half a second every second, ad infinitum. The two folders that are failing are doing so only on specific items, and any other files that are changed in the folders are continuing to sync.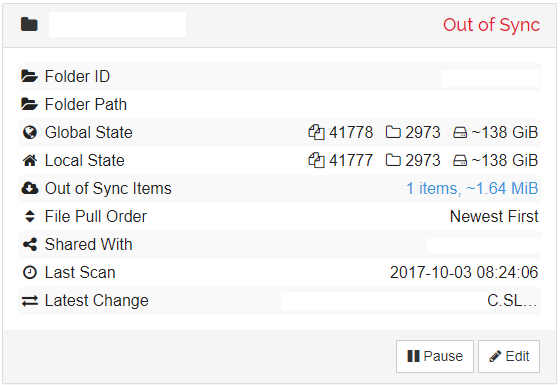 Clicking on the items left to sync lists that item, with no downloading progress bar, just the "Sync" status on the left, and the file size on the right.
Within explorer on the failing side, there is a temp file "~syncthing~FILENAME.EXT.tmp"
Things I've tried:
-restarting both sides of the client
-deleting the temp file on failing/receiving side, restarting
-manually placing the file on the failing side
-deleting the folder listing on the both sides, which initiates a full rescan
Any ideas? Thanks!