Good afternoon,
I have tried to solve the problem for a while now, but am unable to understand what is happening. I am sure this is user error, so I am confident that the solution should be rather simple.
I have simplified the structure of the sharing network to 2 nodes, "mrroboto" (syncthing v1.3.3, on Debian buster) and "tucatuca" (syncthing v1.5.0 on debian buster).
Both hosts share two folders with identical ids, Workspace (about 65 Gb) and Personal (about 200 MB). Both folders are send & receive and the only ignored files are .swp files. Both machines are on the local network and addresses are listed as local addresses. I have also removed the .swp exclusion to no avail.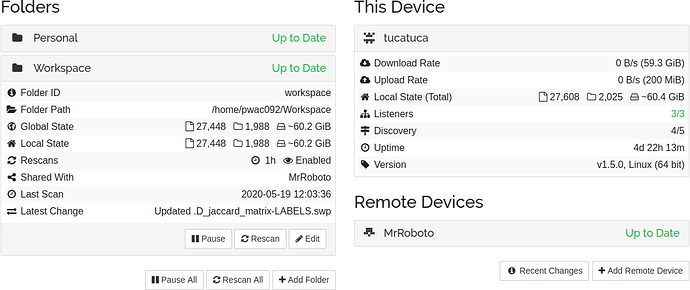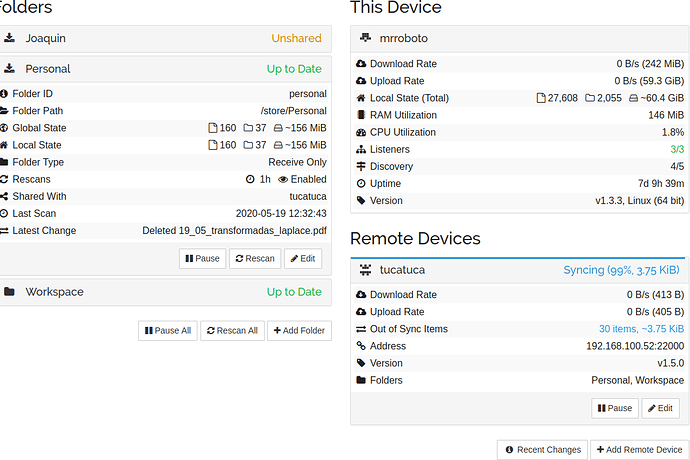 From "tucatuca" I see both folders as "Up to Date", but from "mrroboto" I see folder workspace as "Syncing (99%, 3.75Kib)" (see tucatuca.png, mrrobot.png). mrroboto lists 30 files out of sync. All files share the commonality that they are either hidden folders with or without files (e.g. Projects/Maybe/MesenchymalCancer/.ipynb_checkpoints and Projects/Maybe/ModularPerturbation/code/ontomapper/.git/objects/info) or are simply empty folder (Projects/orphan_DGP/alternative_methods/Prodige/outdata)
These folders are not available on tucatuca and it is a bit frustrating, because I have scripts that depend on them.
Am I missing something in the configs to allow these folders to sync?
I would greatly appreciate any help available!
Cheers.