I'm trying to connect server to android syncthing with default listenAddress, So that time it may or may not connecting.
So i check this issues in this forums and i found a recent solution regarding my issues
ref :
Remote devices showing disconnected
Mr. Simon replayed this solution and i just follow this and i tried to update listenAddress through postConfig (POST /rest/system/config) restapi calls and after i called postRestart (POST /rest/system/restart) restapi and this updated in my android app.
**listenAddress :
"tcp://:22000, dynamic+https://relays.syncthing.net/endpoint"
**
But, in my GUi screen it
listeners : 0/0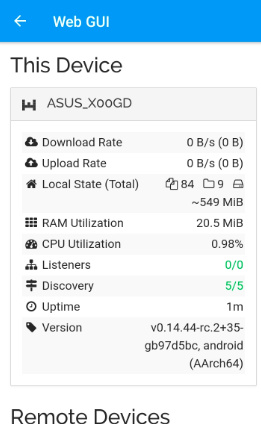 Server side i added my device id and started to connect
but my app not getting any notification regarding 'device want to connect'.
So, Please help me to solve this difficulty