Hi there It's me (again)!
I have a bunch of Windows and Linux personal computers working together with Syncthing (family, friends, mines, laptops or fixed…) without any problem today (apart from one of them).
A little one of those computers, a Linux one (mine) encounter a problem when receiving deletes or renames from others computers : it is able to receive new files, modify/update existing files, but unable to delete them when it's time to do so.
Also, after a rename from another computer, new file with the new name is received and appears, but the old one with the old name remains available on the disk, with one more line into "failed items", with always the same message :
delete file : file modified but not rescanned; will try again later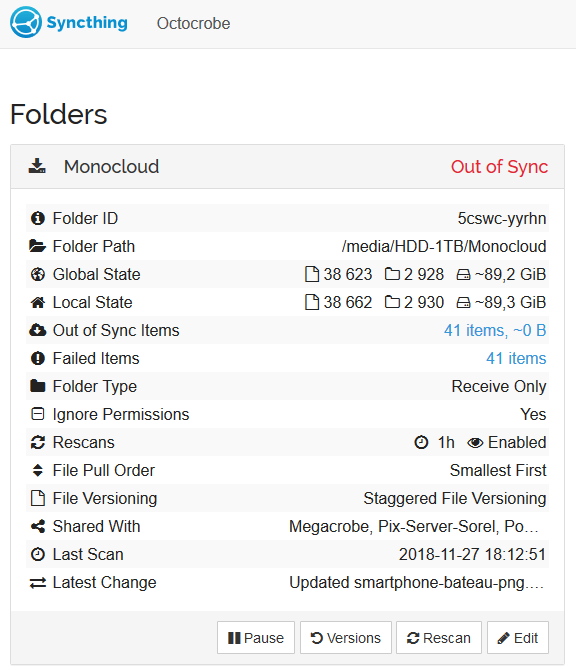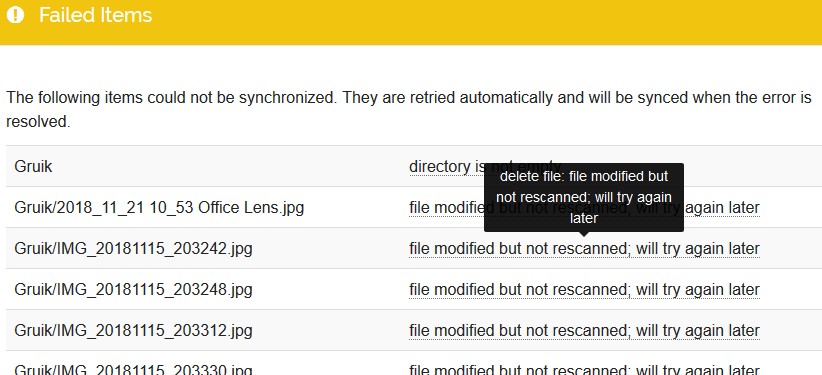 The problem appears at each time : it can be reproduced at any time with any file (you move or you delete it from another computer) : absolutely no delete or rename from another computer is applied fine on this computer.
I already tried to reset the database (/home/user/.config/syncthing/index-v0.14.0.db) but the problem is back as soon as a new file is deleted or renamed from the outside.
I tried to put the folder into "receive only mode" but the problem is still there.
In the other hand, updating an existing file without deleting it or changing it's name is fine (the new version of the file is received and applied without problem).
Do you have an idea of what's causing this trouble ? Is my computer different ?

Also, the folder is localized on a separated hard disk from the operating system. I've checked anything (reallocated sectors, full disk read etc), it's fine. But one particularity : it's using exFAT file system, in order to be available from several Operating Systems. I'm using it for years now but this problem with Syncthing is pretty new (few weeks ago). Is it related ?
Thank you in advance !